It's too early to say if the Socket Lock-It — the product invented by a High Point University sophomore I profiled in March — is going to revolutionize the cell phone accessory industry.
But the invention is already a winner: The Socket Lock-It and its creator, Caitie Gehlhausen, took home first place in HPU's annual Business Plan Competition earlier this month. Her victory came with a prize of $10,000.
Via email, Gehlhausen told me she's "extremely grateful" to be part of an entrepreneurship program at HPU that helps students launch their businesses. (Gehlhausen, as you might remember from my earlier story, is majoring in both entrepreneurship and finance at HPU.)
As for her plans for the prize money: "I am finally able to implement the crucial marketing and promotion budget that the company couldn't previously afford," she wrote. "The money from the competition is going to be a game-changer for the Socket Lock-It!"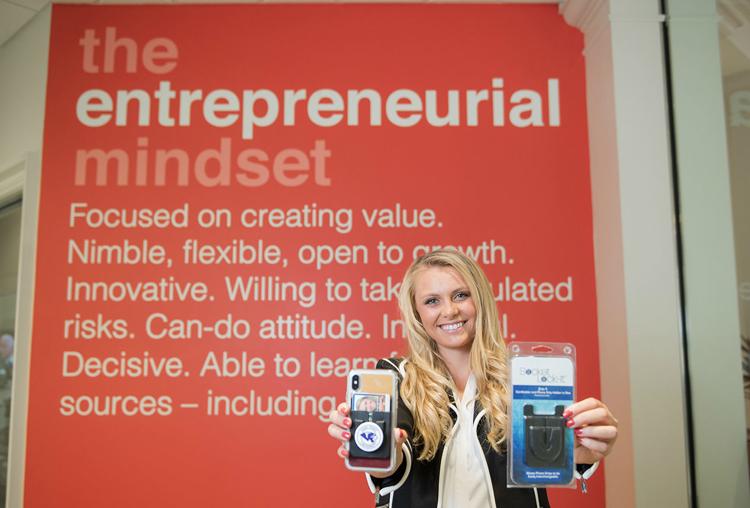 Four other winning teams shared the remaining $15,000 in start-up money. They are:
• Dylan Silber and Anthony Capece won second place for Ace Footwear, which are interchangeable soles for shoes. Silber, a senior from New York, is majoring in entrepreneurship and sales. Capece is a freshman from New Jersey who's an entrepreneurship major.
• Mackenzie Bonvallet won third place for Ohana Lock, a device that secures paddles and other watersports gear to kayaks and paddle boards while they're in transit. Bonvallet is a sophomore entrepreneurship major from Georgia.
• Honorable mentions went to first-year student Ivana Korankyi of Jamestown and junior Michael Mayolo of Virginia.
Here's the HPU news release about Gehlhausen's win. And here's an earlier HPU write-up about the finalists that goes into more detail about each creation.
P.S. It turns out that I know two of the four judges of the 2019 contest, Rob and Tammy Simmons. Rob is president of Machine Specialties, a Whitsett company that makes specialized metal parts, and Tammy is a company vice president. I interviewed them last fall when I was working on a story about GAP, a local apprenticeship program.