The Syllabus: An update on UNCG's millennial campus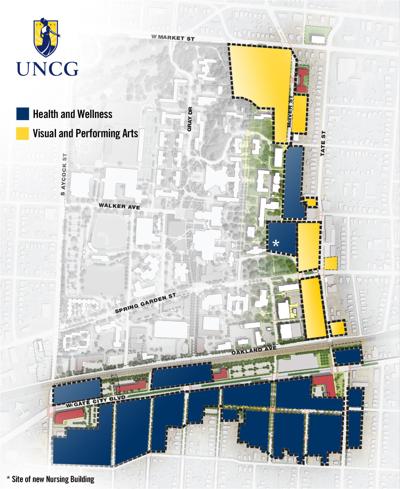 Two years ago this week, UNCG declared that it wanted to set up a pair of millennial campus districts focused on a pair of the university's traditional strengths. One district would run along Gate City Boulevard, more or less, and be devoted to health and wellness. The other would be on Tate Street and have a performing and visual arts theme.
Since the UNC Board of Governors signed off on the concept six months later, UNCG has seen a fair bit of chin-stroking, tire-kicking and general mulling over of things
Two years later, in other words, there's not yet anything to see.
The project does have a website, and UNCG officials are using the term "innovation district" alongside the words "millennial campus." Most of the heavy lifting so far has been done by consultants. UNCG leaders shared with university trustees last week what those paid advice-givers have come up with so far.
UNCG has hired HR&A Advisors, a real estate and economic development consulting firm that's based in New York and has an office in Raleigh. The firm has worked on a bunch of projects, including the redevelopment of the High Line park in New York City and creation of a 50-year master plan for Research Triangle Park.
UNCG leaders say HR&A reps were on campus in April, held community discussions over the summer, and have talked with professors and some 40 or so community leaders. University officials have chatted with residents of the adjacent College Hill and Glenwood neighborhoods as well as faculty members who run research clinics and institutes on campus.
Those conversations produced a six-page vision statement, which you can read if you click here.
The short document lists a lot of big-picture concepts for UNCG's two millennial campus districts. These areas should be "accessible" and "collaborative" and "engaging," among other things, according to the memo. But tucked away amid this verbiage are some concrete suggestions for some projects UNCG might actually do at some point.
Here's a not-exhaustive list based on that memo and a presentation at a board committee meeting last week by Alex Ashton, the university's new real estate director who came to UNCG via Guilford County government and UNC-Chapel Hill.
In the health and wellness district, there might be:
• Community health clinics that will treat patients (and give hands-on experience to UNCG students and research opportunities for UNCG faculty).
• An early childcare center (also with research and training opportunities).
• Research centers with labs.
• Space for start-up companies that emerge from UNCG research or want to work with UNCG faculty.
• New space for UNCG's current AD/HD, speech and hearing and psychology clinics.
In the arts district there might be:
• Community studio and work spaces for local artists.
• New full-scale restaurants and maybe a wine bar.
• New venues for music, comedy or other performances.
• A community arts school.
• A makerspace.
In both (or either) districts there might be:
• Conference center and event space for university and community use.
• Housing (probably apartments).
• Retail spaces.
• Office space.
• Convenient parking (which is the eternal No. 1 issue at UNCG and most other college campuses).
If you haven't picked up on the hints above, yes, there almost certainly will probably be new construction in these districts at some point in the future. But what it will be and where it will go is anybody's guess. That's one of the key features of a millennial campus: This designation lets UNC schools borrow money for construction or have a private-sector company do the building instead. That's how Appalachian State is able to tear down and rebuild all the dorms near its football stadium in less than four years.
UNCG's consultants are scheduled to deliver a more detailed proposal later this month that will have suggestions for projects, private-sector partners, governance and funding. Trustees will get a fuller report in the spring. In the meantime, UNCG might try some small-scale projects, such as renovating university-owned space in these districts and finding tenants to lease it.
Since announcing the millennial campus concept two years ago, Chancellor Frank Gilliam said outside entities (he didn't name any) have approached UNCG with business deals. UNCG has passed, he said, because the university is looking for a more symbiotic relationship than these potential partners were willing to consider. ("They say there's a market for certain things," Gilliam said, "and they want to capture that market. They don't want to give us anything in return.")
Whatever UNCG ends up doing in these districts, Gilliam added, "has to be consistent with the university's mission. We're not just looking to be economic developers per se. …
"It either has to benefit our students in some way, or provide research or academic space for our faculty. It has to make sense for our academic community writ large."
Have something to say about something you just read in this space? Email me at john.newsom@greensboro.com. You can also follow me on Twitter.