Blog: Retail Therapy
Swiss watches now have authorized e-commerce avenue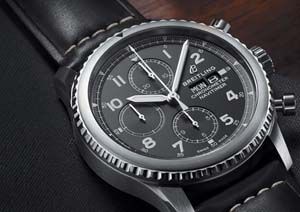 Just in time for the holidays, a new e-commerce site gives shoppers piece-of-mind when shopping for a legitimate Swiss-made watch.
Troverie is a brand-authorized, omni-channel luxury watch site that fills a long-standing gap between luxury watch makers and online sales.
Many manufacturers in the industry have kept tight restrictions on online sales because of the "grey market" of watches.
"The majority of them are not authorized," said Lane Schiffman, who owns and operates Greensboro-based Schiffman's Jewelers with his brothers Arnold and Vance.
Schiffman's is one of a number of retailers in 22 states to partner with Troverie.
Lane Schiffman, who oversees the watch, marketing and sales departments for Schiffman's, said many online Swiss watches are either refurbished or fakes.
"There's been a big problem in the industry with grey market and unauthorized dealers selling watches online and those of us that are the authorized official dealers haven't been able to sell watches directly online," Schiffman said. "It's left the market to these secondary type people."
Schiffman said grey market watches do not get the support an authorized jeweler can provide.
"The consumer has been put off by it," Schiffman said.
Among the manufacturers Troverie is authorized to sell are Bell & Ross, Blancpain, Breguet, Breitling, Bvlgari, Girard-Perregaux, Hamilton, Longines, Movado, Nomos, Omega, Raymond Weil, Tag Heuer, Ulysse Nardin, and Zenith.
Schiffman's in Greensboro sells Michele, Omega and Raymond Weil brands.