Blog: Retail Therapy
Downtown Greensboro holiday shopping gets boost with weekend events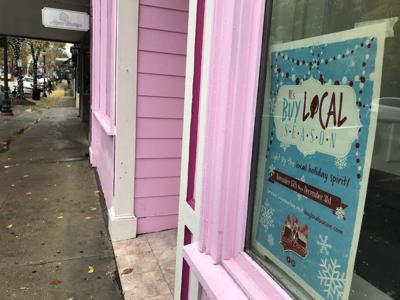 GREENSBORO — A couple of events this weekend will spotlight downtown local shopping.
First Friday, a monthly event in which downtown retailers and art spaces, stay open late will be held 6 to 9 p.m. Friday.
Some retailers will be offering refreshments, discounts, guest artists and live music.
Visit FirstFridayGreensboro.org for a schedule of events.
The Willows Pop Up Boutique will be open 5 to 9 p.m. for First Friday.
The boutique is a pop-up shop operated by Goodwill Industries of Central North Carolina, better known as Triad Goodwill.
The temporary shop is at 201 S. Elm St. at the intersection of February One Place.
The shop sells new and gently used name brand designer clothing, shoes and accessories selected specifically for the shop. Items are a bargain at Goodwill prices.
There is also holiday gifts and decor.
The shop will also be open 11 a.m. to 6 p.m. Dec. 11-15.
For information, visit TriadGoodwill.org or follow Triad Goodwill on Facebook and Instagram.
On Saturday, Triad Local First — a non-profit that advocates local small, independently-owned business — will hold a Holiday Stroll to spotlight downtown Greensboro businesses.
The event is part of Triad Local First's Buy Local Season holiday shopping campaign.
Shoppers can catch a free ride on a trolley that will will run up and down Elm Street from 1:15 to 5:15 p.m. and stop at 32 shops and eateries participating in the event.
For a map of retailers, visit Triad Local First on Facebook.
Some activities worth checking out are coffee from Union Coffee, a new downtown coffee shop, that will be served at Antlers and Astronauts boutique at 534 S. Elm St. Stop by 1 to 4 p.m. and meet Erienne Jones who will be selling her Some Call Me Crunhy handmade bath and body products 1 to 4 p.m.
Clothing and accessory Aspen Boutique at 227 S. Elm St. will have hot beverages and cookies.
And secondhand clothing store Vintage to Vogue at 530 S. Elm St. will hold a sidewalk sale with guest vendors.
Small Businesses of downtown Greensboro have joined hands to raise money for the local non-profit Interactive Resource Center (IRC), a day shelter for those challenged by homelessness.
The initiative, called Givesboro, is sponsored by Triad Local First and runs through Dec 31.
Visit Givesboro on Facebook to find out how you can contribute.