GREENSBORO — The N.C. Folk Festival will extend its geographic reach this year by turning eight downtown businesses into temporary music venues.
Folk Fest Music Spots will present 11 local bands in those businesses on two days of the free multicultural festival of music, food and crafts.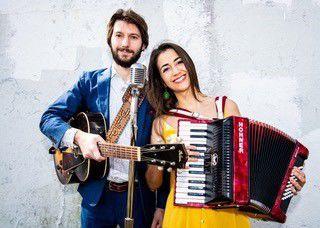 The downtown businesses will add to a packed lineup of live music starting Sept. 6 on five large outdoor stages nearby.
The bands will perform at businesses from 12:30 to 5:30 p.m. on Sept. 7 and 8. The businesses will have dedicated seating and listening space.
"We want the festival to have a more intentional presence along Elm Street and within other downtown businesses," said Amy Grossmann, the director of the N.C. Folk Festival.
The festival will offer Folk Fest Music Spots in collaboration with educational organization Fiddle & Bow Society and Downtown Greensboro Inc., an economic development agency.
"This new collaboration with music is a great step to truly showcase what downtown Greensboro has to offer," said Zack Matheny, DGI's president.
The N.C. Folk Festival spun out of the National Folk Festival, which held a three-year residency in the city from 2015 to 2017 and drew more than 400,000 people to downtown.
More than 150,000 people attended the inaugural N.C. Folk Festival in 2018, according to organizers.
The Folk Fest Music Spots include craft breweries, vintage stores and a bookstore.
Businesses participating Sept. 7 are:
Scuppernong Books, 304 S. Elm St.
Moore Music Company, 615 W. Market St.
Deep Roots Market, 600 N. Eugene St.
Joymongers Brewing Co., 576 N. Eugene St.
Participating Sept. 8 are:
Vintage to Vogue, 530 S. Elm St.
Antlers & Astronauts, 534 S. Elm St., Suite B
The Flat Iron, 221 Summit Ave.
Preyer Brewing, 600 Battleground Ave.
Local artists performing will be The Alley Rabbits, Cicada, Sam Frazier, Chris Frisina, Big Ron Hunter, Last Rays of Sunday, Minor Swing, Our Band, Sinai Mountain Ramblers, The Williamson Brothers and The Zinc Kings.