GREENSBORO — More than 250 people will gather Thursday evening to glimpse the future of one of the city's most famous homes.
They will sip a signature cocktail and dine on hors d'oeuvres inside the historic mansion known as Hillside at 301 Fisher Park Circle.
Selected designers will be on hand to describe how they will turn it into a show house for public viewing from April 7 to 29.
"It's going to be a beautiful rejuvenation," said Linda Lane, who chairs the designer show house for nonprofit Preservation Greensboro.
Locals know this rambling brick and half-timbered mansion home as the former Julian Price home, built in 1929 for the president of Jefferson Standard Life Insurance Co.
Famed architect Charles C. Hartmann designed the 9,200-square-foot, 27-room mansion, considered one of the state's grandest Tudor-style houses.
In January, it gained national attention as the setting for a dramatic episode of the A&E television reality series, "Hoarders."
More than 1.2 million households watched as crews emptied the house, packed with contents accumulated by former longtime owner Sandra Cowart.
Now Hillside has new owners, Michael and Eric Fuko-Rizzo, and a new lease on life.
Work crews buzz about the property.
Exterior painting is underway. The original front flagstone path has been reset. Original windows have been restored. Central air is being installed.
The 1.6-acre yard has been cleared and prepared for plantings. Renowned local landscape architect Chip Callaway has designed its gardens. A well has been installed for irrigation.
The original Ludowici clay tile roof has been given a clean bill of health.
"Everything here is amazingly intact," Michael Fuko-Rizzo said.
Hillside appears on the National Register of Historic Places and Guilford County's list of historically-significant properties. That means that the Guilford County Historic Preservation Commission must approve changes.
For design purposes, the show house has been divided into 24 spaces. Some designers have been chosen, including a group of interior architecture students at UNC-Greensboro. Organizers are recruiting more designers.
Come January, they will begin decorating with fresh wall treatments, furniture and accessories.
The house includes five bedrooms and seven bathrooms.
The owners plan only a few major interior changes with the kitchen, servants' quarters and master bath.
Photographs of the finished show house will appear in Southern Home magazine, the media sponsor.
Proceeds from Hillside events will benefit Preservation Greensboro, which saves local historical and architectural treasures.
When the designers and their decor are gone after April 29, the Fuko-Rizzos will move in with their twin daughters.
The Fuko-Rizzos have a passion for restoring old homes and giving them new life.
"We ultimately hope that the house is completely restored from top to bottom, inside and out, to the way it was in the 1920s with some enhancements for modern living," Michael Fuko-Rizzo said.
"And I hope that it's for everyone to enjoy," he added. "One hundred years from now, the house will absolutely be here. It won't be ours, but we hope that it carries on forever."
If you miss Thursday's sold-out Sip and See event, no worries. Preservation Greensboro will repeat the event, on Nov. 9.
But before the events Thursday and Nov. 9, let's take a look inside at two planned changes.
The kitchen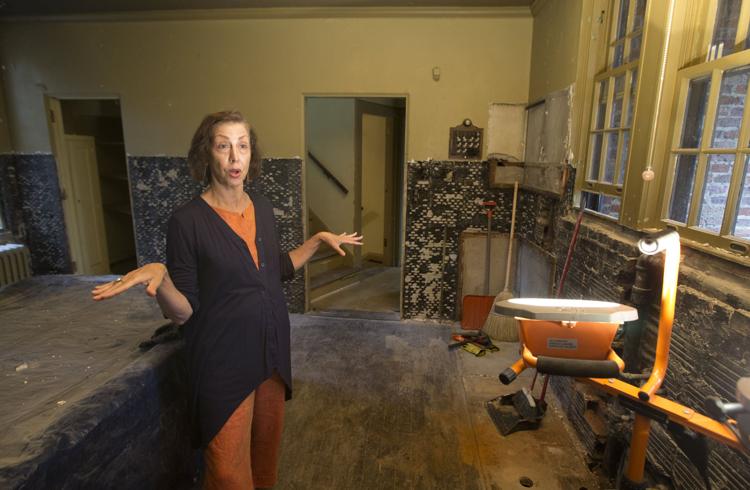 After buying Hillside in September 2016 and seeing it emptied, the Fuko-Rizzos discovered that the first-floor billiard room actually held the original kitchen.
"Eric and I also met with some of the families who lived there while it was the manse for First Presbyterian Church, and they told us stories about what it used to look like," Michael Fuko-Rizzo said.
The prior owner likely had used the nearby butler's pantry as the kitchen. But the new owners decided to return the kitchen to its original location.
Crews have gutted the billiard room interior to prepare.
"You'll see the walls are 13 inches thick," Michael Fuko-Rizzo said. "They are filled with brick with clay tile. This place is rock-solid."
Maria Adams Designs in Oak Ridge will design the kitchen.
Marsh Kitchens has created a cabinet layout.
After meeting with the homeowners, Adams will select tile, countertops and lighting. The homeowners will provide appliances.
A center island will replace the pool table in the center, Lane said.
"This was where the sink was and will be," she says, pointing to its rear wall. "This was a long counter space. There was a washer-dryer here, which was not original but was brought in probably in the '50s."
Pointing to the opposite wall, she adds, "The range was on this wall. And you can see a little trap door over there, which we believe is the incinerator shoot for throwing trash or goods that can be incinerated. We found something in the basement that corroborates that. But everything here is a discovery challenge and a surprise."
The servants' quarters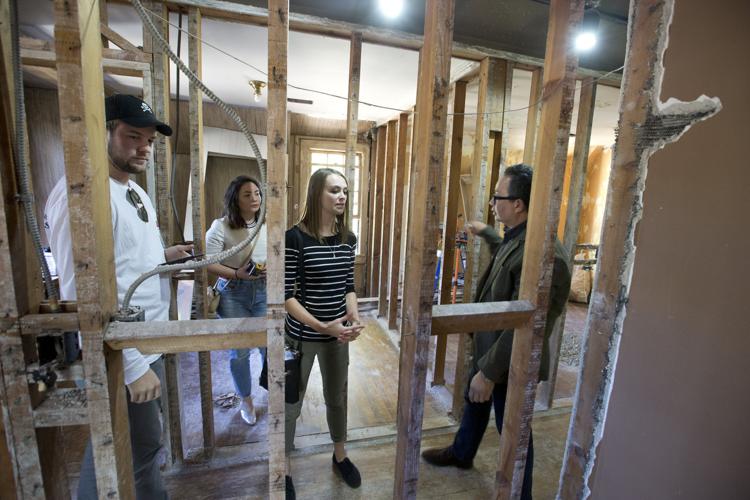 Walk up a set of rear stairs to what had been the servants' quarters.
"It's not the second floor, it's not the first floor," Lane says. "It's a space above the garage. I call it the mezzanine."
It housed three small bedrooms, two cedar-lined closets and a bathroom with a cast-iron tub, sink and toilet.
Eight students from UNCG's Department of Interior Architecture will transform it into an in-law suite for visiting relatives.
"We're excited that we have young, ambitious students working for us," Lane says.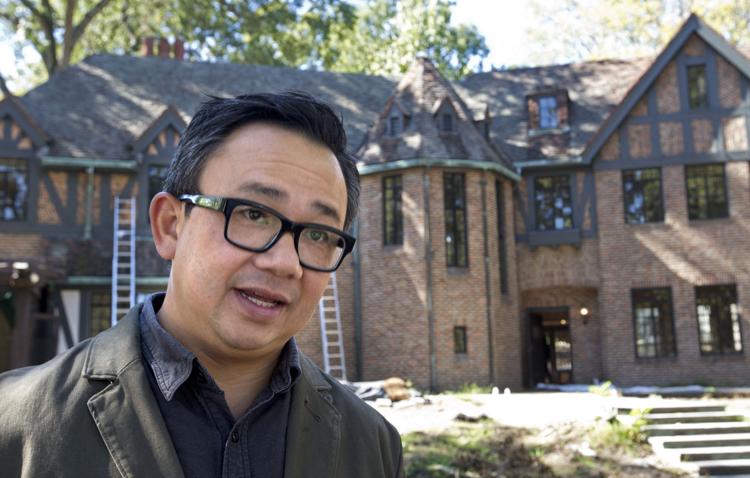 Students joined the effort through the department's Center for Community-Engaged Design, which partners students and faculty with nonprofit community projects.
The homeowners told them that they wanted walls removed to open up the space, and what features it should include, senior Corinne Playfair said.
Last week, work crews removed the walls.
Students will present homeowners with two layout options from which to choose, junior Tyson Howlett said.
"We want it to be light and airy," Playfair said. "We will have some wall dividers, so we're currently thinking about how to do that. Maybe we'll make our own pieces for the space."
Students will work with UNCG's art department to add art to the space, senior Bailey Chu said.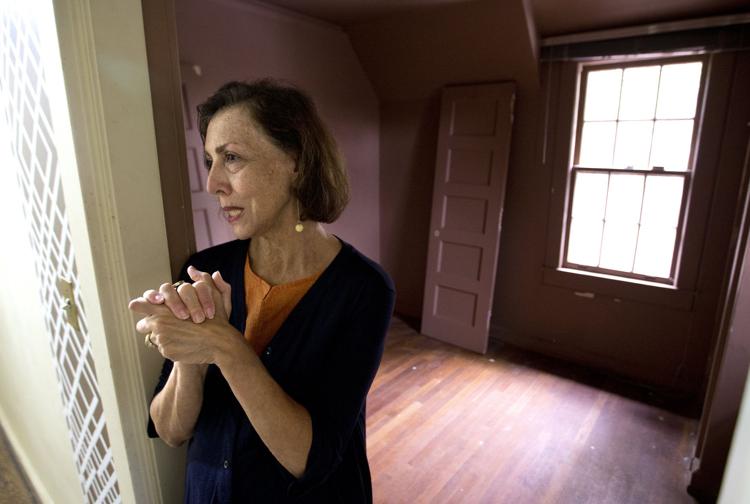 Projects such as Hillside offer invaluable learning experiences to students, said Khoi Vo, who heads UNCG's Interior Architecture department.
"It's a wonderful way to reinforce that curriculum through real-world experience," Vo said.