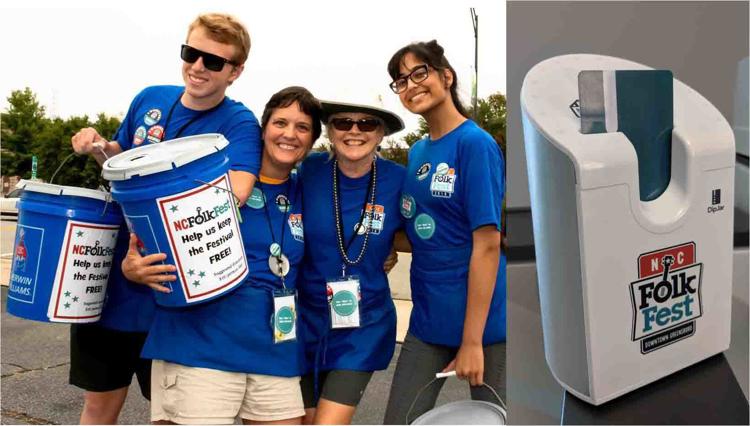 GREENSBORO — With the N.C. Folk Festival opening Friday, organizers have found more methods for attendees to donate money to keep admission free.
Three new fundraising methods rely on technology — mobile phone apps and a device called a DipJar.
Two others count on the appeal of VIP events: The NC Folk A'Fare and The Lounge at NAI Piedmont Triad.
"We want to provide more opportunities for individuals to support and engage with the festival," Director Amy Grossmann said.
The new methods follow a year when cash donations to the festival's volunteer Bucket Brigade dropped to about $60,000. That was down from $77,000 in 2017, the last year of the National Folk Festival's three-year residency downtown.
The N.C. Folk Festival spun out of the three-year national event, which drew more than 400,000 people downtown. The inaugural N.C. Folk Festival in 2018 drew more than 150,000 people.
For three days starting Friday, the multicultural celebration of the country's roots and heritage will bring 45 performers, 55 artisans and 26 food vendors to center city.
A diverse list of world-class performers and styles will be showcased across five outdoor stages as well as indoor spaces.
Thanks to spending by the festival and audiences, the 2017 festival generated more than $15 million in economic impact, Grossmann said. She hopes to release 2018 and 2019 data after this year's festival.
To make it happen, ArtsGreensboro — which co-produces the festival with city government — needs $1 million in cash and about $500,000 in in-kind contributions of equipment, space, advertising and time.
A line in the state's pending budget would provide $100,000 to the festival in the current fiscal year for marketing and operational expenses. But that is tied up in the budget impasse in Raleigh.
Most money comes from corporations, foundations and other sponsors. It has raised about 90 percent of the $950,000 it needs going into the festival, Grossmann said.
During the festival, it relies on beverage and merchandise sales and donations to raise the rest.
Organizers want more people to show some love.
Each day, a Bucket Brigade of volunteers will circulate, asking each attendee to drop $10 in their blue buckets.
Last year, they raised about $60,000, down from $77,000 the year before.
This year, they want exceed last year's $60,000.
The Tannenbaum-Sternberger Foundation will help. As it has done for the past couple years, it will contribute $10,000 as a dollar-for-dollar match challenge.
"One thing we found over the years is that fewer and fewer people are carrying cash with them," Grossmann said. "We need to adjust."
Meet the DipJar.
Some Bucket Brigade volunteers will carry the device. Donors dip in a credit card. Voila, they have made a donation.
The festival bought five DipJars at about $400 each. It plans to use them at future festivals and events as well.
"We will be able to monitor in real time how many transactions are happening and where they are happening," Grossmann said. "If we find one area where maybe it isn't getting utilized much, we'll just move that DipJar to another section of the festival."
For the first time, donors also can contribute through the festival's mobile app. Users can download it onto their cell phones for free from Google Play and Apple App Store.
"You can create your own schedule, you can read about the performers, you can get directions to different things," Grossmann said. "But there's also a donate button there."
Grossmann learned that many younger people use Cash App. So the festival added that, too.
It's a mobile payment service developed by Square, Inc. that allows users to transfer money to one another.
The festival created the cashtag of $NCFolkFest.
"You just punch in the cashtag and then how much money you want to send," Grossmann said.
Of course, donors can still give at ncfolkfestival.com.
Donations to the festival are tax deductible.
Two new fundraising events rely more on food than technology.
On Wednesday, chefs from more than 15 restaurants will showcase the city's diverse dining scene by presenting their signature dishes.
Called the NC Folk A'Fare, it will take place from 6 to 8:30 p.m. at the festival's Lawn Stage, 240 Commerce Place.
Tickets are $100, available at eventbrite.com. Charles Aris Inc. and the Womble Bond Dickinson law firm will sponsor the event.
During festival hours, the public can get an air-conditioned view in a new, exclusive space: The Lounge at NAI Piedmont Triad.
The lounge will be inside the NAI Piedmont Triad building, the commercial real estate company at 348 N. Elm St. It has a large, all-windows conference room that offers a perfect view of the Lee Wrangler Stage.
Lounge guests can watch the festival while savoring hors d'oeuvres and an open bar serving beer, wine and spirits.
Weekend passes for The Lounge are $125 for one, $200 for two.They can be purchased at ncfolkfestival.com/thelounge/, and proceeds support the festival.
"Obviously, the more money we raise, the better it positions us going into 2020," Grossmann said.