Music, dance, storytelling and more.
N.C. Folk Festival debuts in Greensboro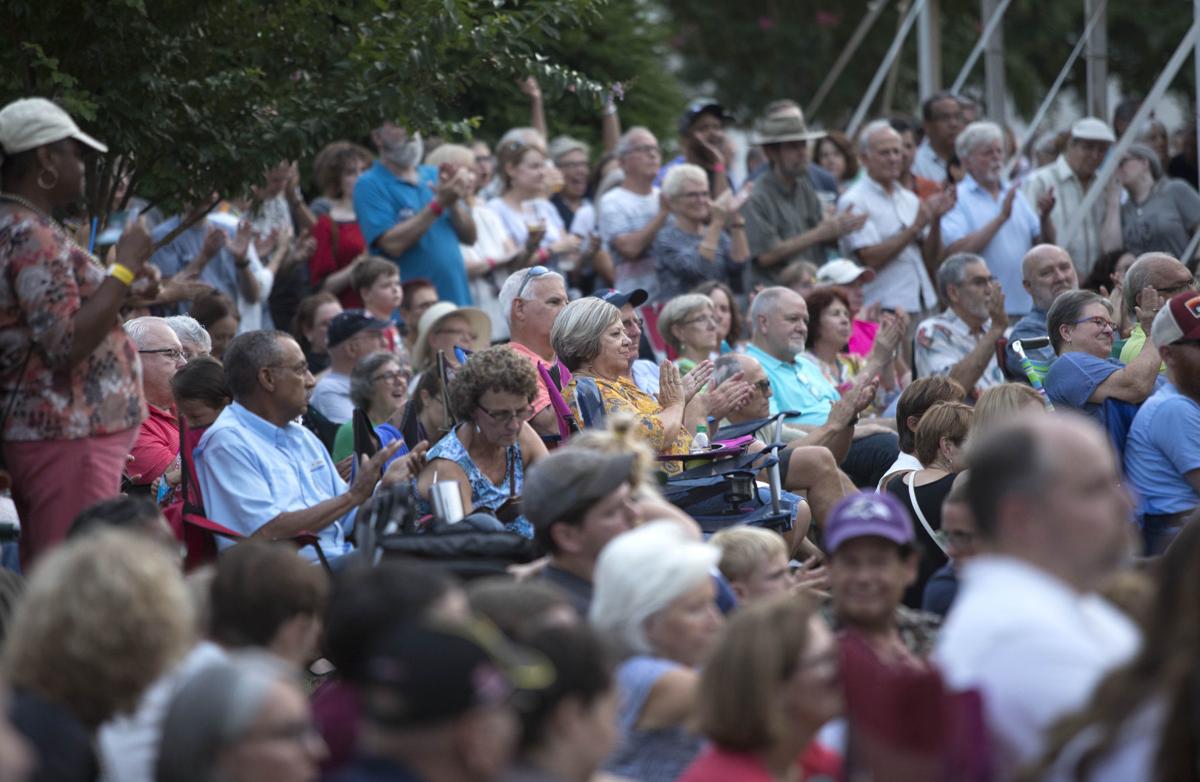 GREENSBORO — The three-day party has started in center city.
"Welcome to the first annual North Carolina Folk Festival," Mayor Nancy Vaughan greeted the cheering crowd assembled Friday night at an East Market Street stage. 
Around downtown, other stages came to life with entertainment that opened the free outdoor festival of multicultural music, dance, storytelling, crafts and food.
"Be ready to boogie," said City Council member Sharon Hightower, who joined Vaughan, Council member Justin Outling and UNC-Greensboro Chancellor Frank Gilliam at the CityStage sponsored by Blue Cross and Blue Shield of North Carolina.
The locally-produced festival replaces the National Folk Festival, which the city hosted each September from 2015 to 2017.
ArtsGreensboro and the city have partnered with other sponsors to continue the event, with the national festival as their model.
Over three days, crowds can enjoy more than 30 acts from a mix of cultures performing in seven outdoor locations.
They can buy crafts from North Carolina artisans.
They can purchase traditional festival fare, regional dishes such as North Carolina barbecue, and the cuisine of new immigrant communities.
Although the festival is free to attend, festival-goers help by contributing to the Bucket Brigade of volunteers that circulate through the festival. They suggest a donation of $10 per person per day. 
This year's Bucket Brigade goal is $80,000, up from $77,000 collected last year, festival Director Amy Grossmann said. The Tannenbaum-Sternberger Foundation will match donations up to $10,000, as it did last year.
Last year's national festival attracted about 162,000 people.
Festival organizers have hired local experts to perform roles that the National Folk Festival filled from 2015 to 2017.
Festival organizers hope for 175,000 this year — if the weather cooperates. 
The festival runs rain or shine. And Saturday and Sunday could bring a chance of showers and thunderstorms.
Tents cover audiences at the Dance Pavilion, Wells Fargo Lawn Stage and Family Stage, but not at other stages.
Greensboro native and Grammy Award-winner Rhiannon Giddens, who serves as the festival's guest curator, attracted an overflow crowd Friday night to the Wells Fargo Lawn Stage at Commerce Place and Bellemeade Street.
Joining her were her sister Lalenja Harrington, tap dancer Robyn Watson, bassist Jason Sypher and pianist Francesco Turrisi. Giddens sang "Summertime" and "Underneath the Harlem Moon" as Watson tapped the beat. They are among the artists that Giddens has tapped to perform during the festival.
At other stages, audiences heard gypsy jazz from the John Jorgenson Quintet, Canadian fiddling from The Fitzgeralds, Delta blues from Jarekus Singleton, reggae from Wesli, the kora from Sona Jobarteh, zydeco from Nathan & The Zydeco Cha Chas, and Puerto Rican bomba and plena from Viento de Agua.
Shashmaqam played Jewish Bukharan music from Central Asia at downtown Temple Emanuel.
Giddens will host a symposium on the banjo from 9 a.m. to noon Saturday at the Van Dyke Performance Space in the Greensboro Cultural Center, featuring talks and demonstrations by leading banjo researchers and scholars.
The festival reopens at noon Saturday, with performances by Shashmaqam, beach music group The Embers, Cabin Creek Boys and the John Jorgenson Quintet starting the day. The N.C. Folklife Area in Center City Park will host a program on pottery.
On Friday night, the music attracted festival-goers Sarah Swertfeger and Will Porter, both of Greensboro.
"Last year, there was so much music and so many different things that you could go to," said Swertfeger, 24.
She and Porter were impressed that the festival closes part of downtown to traffic.
"To grab a beer and walk around downtown is pretty neat from where it started, when there were beer gardens and you couldn't go anywhere," Porter said. "It's really cool to see how Greensboro has evolved that way."
As he talked, Porter eyed the food vendors. He wasn't sure what he wanted.
"That's the best part about the festival," Porter said. "You just kind of discover stuff."
Nearby, Chau Nguyen of Greensboro had already found what she wanted: a vegetable pita.
"I'm here for the food," she said with a laugh.
She and Christian Anderson, both 26 and from Greensboro, have attended the festival in years past.
Anderson's favorite: the 2016 performance by the pioneering hip-hop DJ, Grandmaster Flash.
Amber Cotton and her son Braelen, 5, planned to check out Friday night's zydeco and reggae bands.
"There are a lot of good bands that you wouldn't normally see anywhere else, that you get to catch down here," Amber Cotton said. "And they're all in one place all over the weekend. And it's free, so you can't really beat that."
She and her son volunteered at the festival the last two years, helping out with the Bucket Brigade.
"I got to get the money," Braelen said. "I thought I got to keep it."
Greensboro native Jason Graham lives in Georgia now. But after attending last year's festival, he decided to return this year.
"I was so surprised when I saw downtown Greensboro packed with so many people," said Graham, 29. "Greensboro is coming alive now."
Contact Dawn DeCwikiel-Kane at 336-373-5204 and follow @dawndkaneNR on Twitter.