GREENSBORO — A familiar face greets movie-goers and passersby at Red Cinemas.
Ken Jeong. 
Yes, that Ken Jeong, the actor famous for film roles in "The Hangover" trilogy and in television's "Community" and "Dr. Ken." He grew up here.
Jeong attended Aycock Junior High (now Swann Middle School) with developer and Red Cinemas owner Marty Kotis.
So Kotis arranged for mural artist Brian Lewis, aka JEKS, to paint Jeong's far larger-than-life portrait on the front of the multiplex at 1305 Battleground Ave.
"It will get people's attention, for sure," Kotis said as he watched JEKS paint.
It might even get Jeong's attention. The actor will be in town Friday to speak at UNCG's commencement at the Greensboro Coliseum.
Kotis pays tribute to another friend, Cathy Jackson, with a mural on the back of Westover Gallery of Shops, painted by the Brazilian artist Sipros.
The images join 10 other colorful murals and art installations that artists will add this week and next to Kotis properties.  
Being2Art, a native of Mexico, came from Charlotte to create an art installation using skateboard decks at the Pig Pounder Pavilion on Battleground Avenue. The local artist known as Peter Draws created work there, too.
Aaron Pearcy, the South Dakota artist known as ampgraffiti, will paint a mural on interior walls at Painted Plate at The Vineyard, 3404 Whitehurst Road.
Golden 305 from Miami will paint buildings on Beaman Place and Grecade Street.
Greensboro artist Gina Franco will work on a phone booth. And Joseph Giampino of Raleigh will paint a speedboat.
Kotis aims to hit 100 pieces by year's end. This brings him to nearly 80.
Much of that street art can be found downtown and in Midtown, the heavily-traveled district of restaurants and entertainment along the Battleground Avenue corridor.
His Tracks Bazaar and Tracks Beer Garden projects, at West Gate City Boulevard and South Eugene Street, resemble an outdoor gallery of art.
Many pieces lie along the developing Atlantic and Yadkin Greenway, an abandoned railroad bed behind Red Cinemas and Westover Gallery of Shops.
"We like doing pieces that make people smile and entertain them," Kotis said.
The Jeong piece will do that.
The Greensboro-based artist JEKS drew inspiration from Jeong's over-the-top "Hangover" character Leslie Chow.
Next week, JEKS will finish painting him in a gold lamé jacket, holding gold spray paint cans.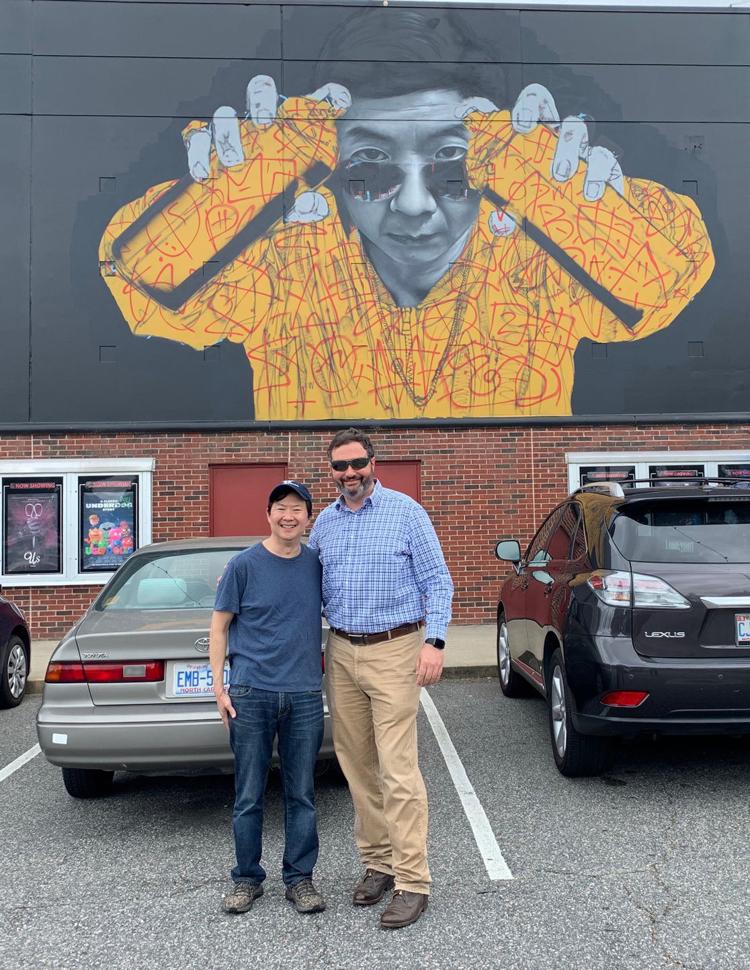 JEKS has gained international renown for his local murals of rappers Nipsey Hussle and Mac Miller.
On Red Cinemas' expansive exterior walls, the Jeong image joins his portraits of Ryan Gosling's character from "Blade Runner 2049" and Marvel Comics legend Stan Lee, along with massive murals by artists from around the world.
They reflect Kotis' desire to turn the city into a street art destination that will retain millennials and give the city a reputation for being cool.
For now, the railroad tracks behind Westover Gallery of Shops and Red Cinemas remain overgrown. A wall of trees hides them behind Red Cinemas.
But pedestrians can walk behind each complex. The rear of Westover Gallery of Shops can be seen from Mill Street and Battleground Avenue.
Someday, trees behind Red Cinemas will be removed.
"You'll be walking along or riding your bike and have a chance to see all of this artwork," Kotis said.
"When you think out 10 years from now, this is where people are going to spend lots of time," he said. "I wanted to create a major attraction here, a gallery for the people of Greensboro."
The street art already has attracted viewers from beyond Greensboro, even from out of state.
Adam Smith, who lives in Raleigh, walked around Red Cinemas this week to take a look.
He had seen the murals on his Instagram feed. 
"Raleigh has a handful of much smaller murals that are sort of sprinkled throughout the downtown area," Smith said. "But those are very specific to the business they're painted on. The sheer scale and quality of the murals that are in Greensboro dwarfs anything we're used to seeing."
He recommended taking an afternoon to check them out.
"The hunt for them is also part of the fun," Smith said. "It's like a scavenger hunt."
Some murals — such as Jeong's and Jackson's — carry personal meaning for Kotis.
In the early 1980s, he and Jeong became good friends at Aycock Junior High. Kotis knew him as the studious friend who never mentioned wanting to become a comedian.
They went on to separate high schools and colleges — Jeong to Page, Duke University and medical school at UNC-Chapel Hill, Kotis to UNC-CH for his undergraduate business degree and then to UNCG for his MBA. 
About a year ago, Kotis received a call from Victor Jones, a local limousine company owner. Jones said his VIP client, Ken Jeong, said he knew Kotis from school.
Kotis said he had a good friend from junior high named Ken Jeong. 
"He (Jones) said, 'Ken Jeong, the comedian,'" Kotis said. "I said, 'I don't think that's the same Ken.' He said, 'No, it is.' I had never put together that he was one and the same."
Kotis and Jeong began to talk and text. (Kotis has since posted yearbook photos from their junior high days on his Instagram site.) Kotis pitched the mural idea. Jeong sent selfies.
Painting a portrait 33 feet wide is a bit overwhelming, JEKS admitted. He plans to finish next week.
"It's cool to paint somebody that's from Greensboro that's one of the biggest actors out," the artist said.
The artist Sipros — who signs his work sipros_sipros — took a different approach with the caricature of Cathy Jackson.
Sipros' caricatures depict youngsters with prominent, round ears. He painted one on the rear of Red Cinemas, then turned to Jackson's mural on the back of Westover Gallery of Shops.
Jackson and Kotis began playing paintball more than 20 years ago. 
"I always remember her as being a fearless, brave person," Kotis said.
Jackson, now 59, has moved from Greensboro to Florida. She battles gastric cancer. Her prognosis is terminal, Jackson said.
Sipros paints Jackson as a youngster playing paintball. 
Jackson said that she is "blown away" by the art and the gesture.
She praises Kotis and his family and other Greensboro friends for their kindness and support.
"To have somebody put you in a mural? Who ever gets that?" she said from Florida. "When he told me he wanted to do that, I was speechless."
As Sipros paints, Kotis gives him a few bits of advice. 
"The only thing we need to do is make her hair longer and make her hair fuller on top," Kotis said. "It's looking really good, Sipros. Legal! (the Portuguese word for "cool")."
"If I had done a photo-realism piece, I couldn't have driven past it every day," Kotis said later. "This one should make me smile."
Marty Kotis expands collection of murals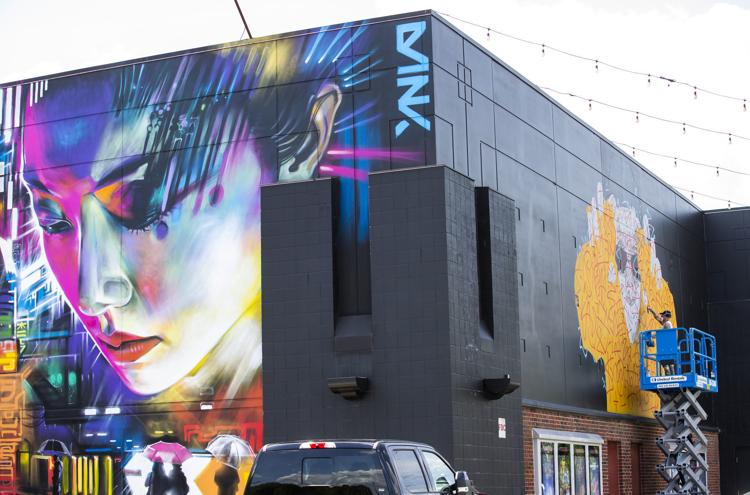 Marty Kotis expands collection of murals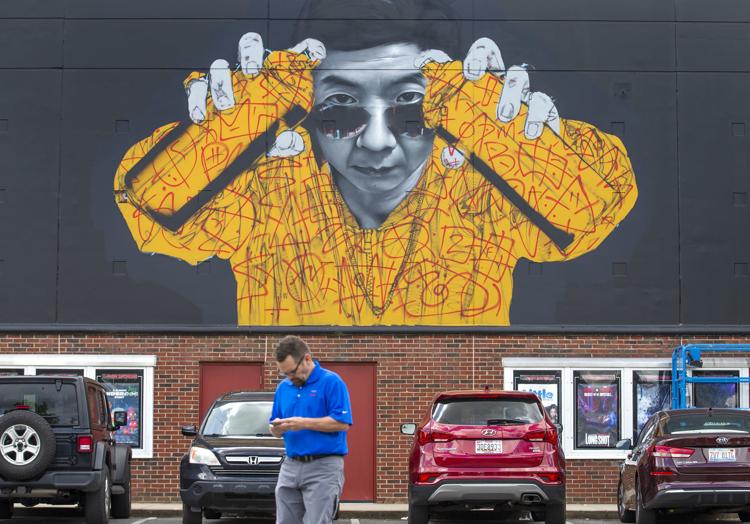 Marty Kotis expands collection of murals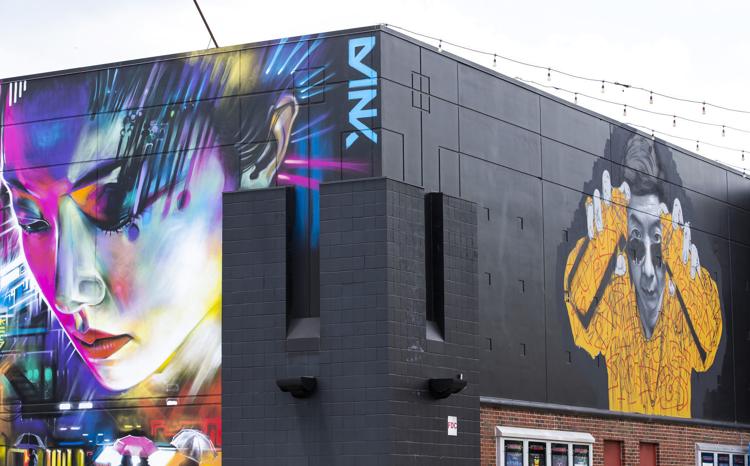 Marty Kotis expands collection of murals
Marty Kotis expands mural collection in Greensboro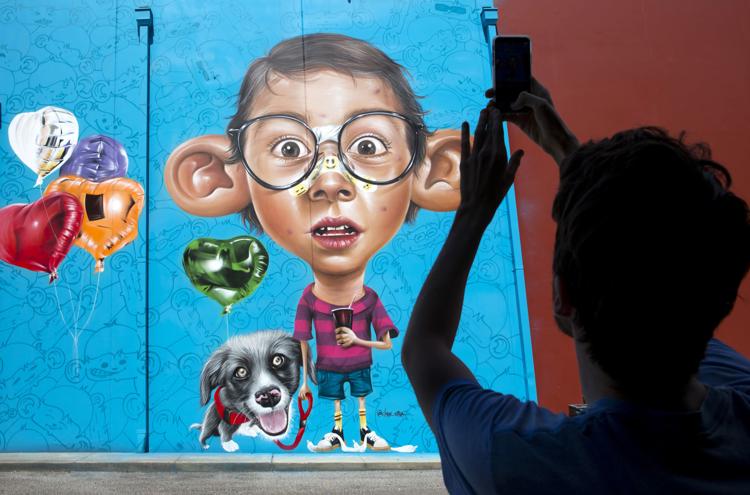 Marty Kotis expands building murals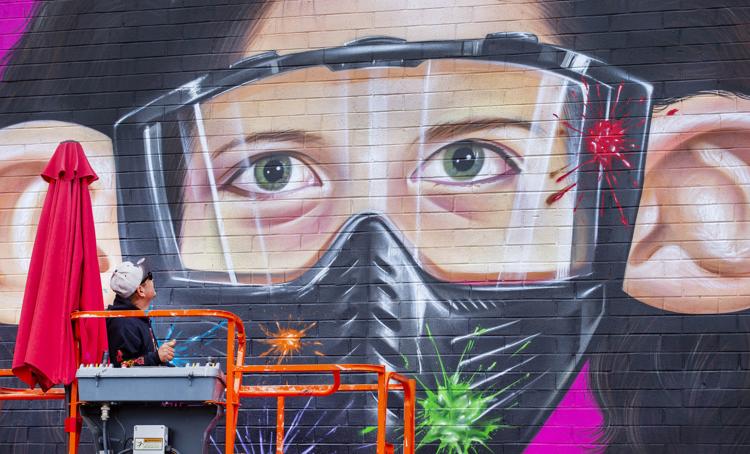 Marty Kotis expands building murals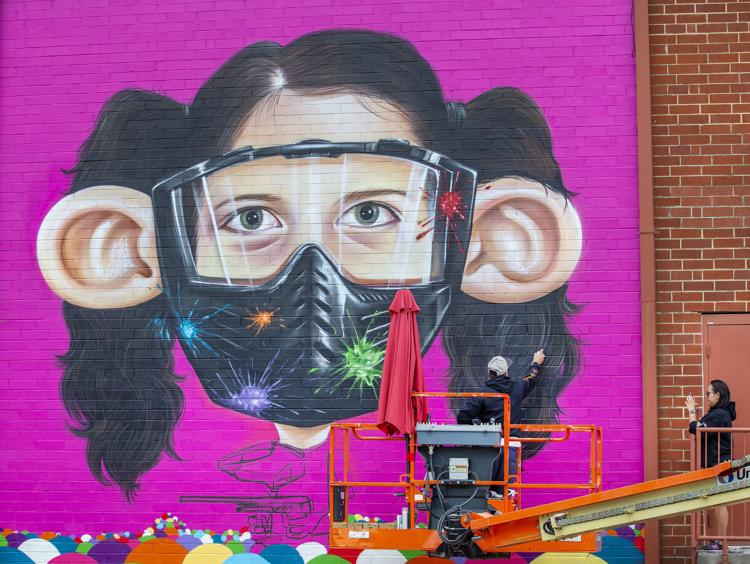 Marty Kotis expands building murals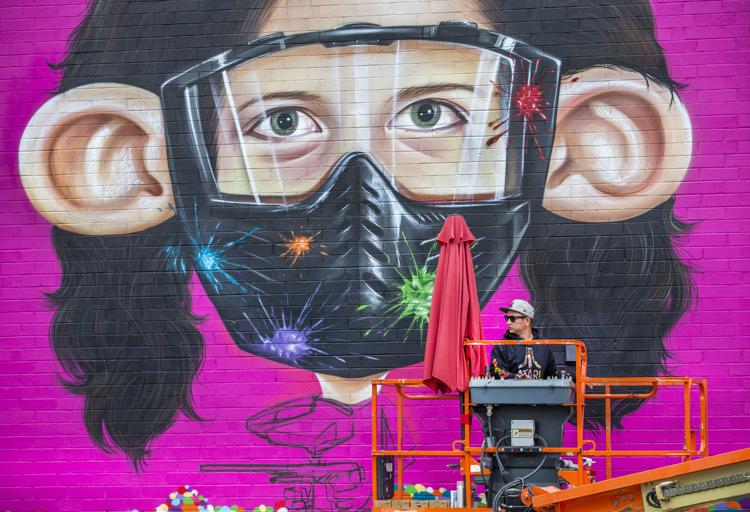 Marty Kotis expands building murals