This article has been updated with a revised grant total.
GREENSBORO — Thanks to a successful annual fundraising campaign, ArtsGreensboro has awarded larger grants this year to several major arts organizations.
The $250,000 allotted to seven nonprofit groups were among grants totaling $324,000 announced Wednesday by ArtsGreensboro.
The remaining $74,000 will go to projects by smaller nonprofit organizations, as well as to regional artists and teachers.
Twelve teachers received grants totaling $13,000, and 15 artists received grants ranging from $900 to $1,900, totaling $18,000.
Laura Way, ArtsGreensboro president and chief executive officer, credited the 9 percent increase in grants to larger organizations to its last ArtsFund drive.
In the fiscal year ending June 30, it surpassed its $850,000 goal and raised $883,000.
The year before, the campaign had fallen $140,000 shy of its $1 million goal. ArtsGreensboro grants declined for 2019.
"Our goal is to expand our ability to support arts organizations across the community," said Way, who has led ArtsGreensboro since April 2019. "This was the first step in that process."
The ArtsFund represents Guilford County's largest comprehensive annual fundraising effort to support arts organizations, initiatives and infrastructure.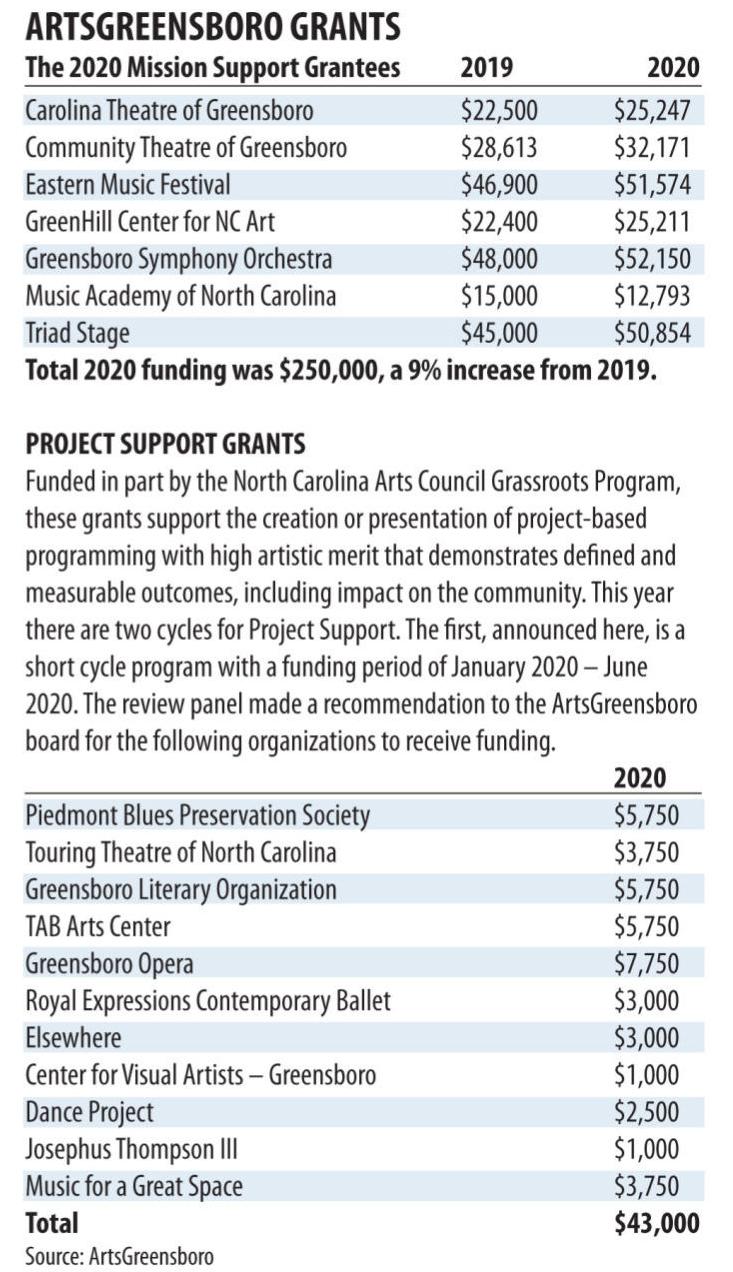 It supports ArtsGreensboro's grants, and its efforts to market and promote the arts and culture community.
Its mission-support grants go to organizations with annual operating budgets exceeding $500,000.
Greensboro Symphony Orchestra received the largest grant of $52,150, followed by the Eastern Music Festival with $51,574 and Triad Stage with $50,854.
The Music Academy of North Carolina received $12,793, slightly less than the $15,000 awarded the year before.
The Music Academy runs on a $750,000 annual budget. "Every dollar is critical to our success," Executive Director Kellie Burgess said. "Our strong educational programs support developing artists, which are vital to sustaining the arts in Greensboro."
Eleven small organizations received grants for specific projects, totaling $43,000. These are six-month grants for projects that will happen between January and June, Way said.
They range from $1,000 for the Center for Visual Artists and for spoken word artist Josephus Thompson III to $7,750 for Greensboro Opera.
More project-support grants will be awarded for the fiscal year that begins July 1.
Nonprofit performing and visual arts organizations rely on ticket sales, grants and donations to present shows and pay their bills. But that's often not enough.
Triad Stage, the downtown professional theater, operates on a $2.5 million budget this fiscal year. Its ArtsGreensboro grant increased by 13 percent from 2019.
Preston Lane, its producing artistic director, said Triad Stage is honored and encouraged by the increase.
"Our local arts environment is incredibly fragile, and the support of organizations like ArtsGreensboro is essential to maintaining a creative economy in our city," Lane said.
Lisa Crawford, president and CEO of the Greensboro Symphony, expressed gratitude for its grant, which increased from $48,000 last year.
The symphony operates on a $2.2 million budget this year. It will use the grant to provide work for professional musicians and education programs for the community.
In March, the symphony will move its concerts to the new Steven Tanger Center for the Performing Arts.
"This year will be one of many transitions," Crawford said. "Starting it on a positive note is key to a transformative year for the arts in Greensboro."
Royal Expressions Contemporary Ballet did not receive a project support grant in 2019.
This year, it received $3,000, and Founding Director Princess Johnson was pleased.
The $3,000 is the largest ArtsGreensboro grant that Royal Expressions has received in 10 years of existence, Johnson said.
Royal Expressions plans to use the grant to host a Juneteenth Festival on June 20. It will highlight local African American artists and celebrate freedom through performances and a marketplace.
"We are still pushing for more black arts organizations receiving equitable grant funding amounts across the board," Johnson said. "We truly believe with the new leadership and changes happening in the arts landscape of Greensboro that we will see change sooner than later."
Way said that she is glad that ArtsGreensboro could give grants to organizations that hadn't received them the year before.
Darlene McClinton, ArtsGreensboro's new grants manager, is talking to organizations that may not have sought grants in the past. Way predicted that more will apply in the next round.
Other grants announced Wednesday were Regional Artist Project Grants totaling $18,000 and Teacher Art Grants totaling $13,000.