GREENSBORO — If the upcoming N.C. Folk Festival were to give an award for farthest distance traveled, Wu Opera Troupe of Yiwu City likely would take it home — to China.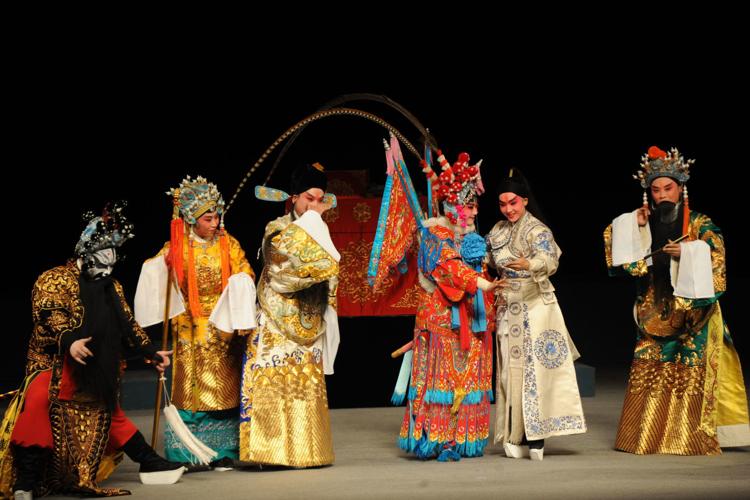 When its 28 members fly in Friday, the Chinese opera troupe will have traveled for about 20 hours from the Zhejiang province.
Its four performances on Saturday and Sunday will offer a rare opportunity to see an elaborate, traditional art form from more than 7,000 miles away.
They illustrate in part what the free, three-day outdoor multicultural festival is all about.
From Friday through Sunday, the festival will bring in a variety of entertainment representing familiar and not-so-familiar genres.
"The diversity is one of the great things about the festival," said Doryl Jensen, who works with UNCG's International Programs Center and helped to bring the opera troupe from China.
"Each year, groups come not just from our local area and the U.S., but represent the breadth and depth and the cultural connectedness of the world of art and music," Jensen said. "It's a wonderful idea."
Some performers come from within the city. Several will travel from Los Angeles, New York and Louisiana.
The band Lúnasa will come from Ireland.
Festival Director Amy Grossmann sees another benefit.
"Part of the story of the festival is about bringing people here and being very hospitable," she said. "And they become ambassadors for Greensboro. They have a great time here in the community with our volunteers. Then they go tell their artist friends at other festivals, 'Hey, have you ever been to that festival in Greensboro? You need to go there.' It pays itself forward."
The N.C. Folk Festival spun out of the National Folk Festival, which held a three-year residency in the city from 2015 to 2017 and drew more than 400,000 people to downtown.
More than 150,000 people attended the inaugural N.C. Folk Festival in 2018.
Audiences usually come from closer to home.
Each year, organizers have collected surveys seeking ZIP codes of spectators.
They found that 40 percent hail from the Triad, Grossmann said.
Another 12 percent each come from the Charlotte metro area and the Triangle. Seven percent come from southwest Virginia.
The remainder come from all over: eastern North Carolina, South Carolina, Richmond, Va., and the Washington area.
"We definitely want to attract audience members from across the state and beyond," Grossmann said. 
To do that, the festival works to recruit diverse, appealing entertainment.
Grossmann formed a programming committee to discuss priorities.
Several acts hail from within the city: N.C. A&T's Cold Steel Drumline and Fellowship Gospel Choir, the UNCG Pep Band, bands Reliably Bad and The Alley Rabbits, dancer Dom-Sebastian among them.
The programming committee surveyed the city's international communities about their music and artist preferences.
Thanks to recommendations, the festival hired Indian and Pakistani singer Kiran Ahluwalia to perform this year.
"She's someone who is very rooted in the vocal traditions of that region and has put a contemporary spin on her music," Grossmann said.
Born in India, Ahluwalia spent childhood years in Toronto, Canada. She now lives in New York.
Like Ahluwalia, other performers now live in the United States, but draw on traditions of their native countries.
While they aren't necessarily household names, they are well-known within their genres.
Ricardo Lemvo was born in northern Angola in Africa. Now he lives in Los Angeles, and performs a blend of African and Cuban music with the band Makina Loca.
Andre Veloz performs Bachata, a genre of Latin American music that originated in the Dominican Republic where she grew up.
Now she's an American citizen who lives in New York.
Some performers represent artistic traditions home-grown within American communities.
From Louisiana, Steve Riley and the Racines will mix Cajun, Creole, blues and swamp pop music.
The Allen Boys are North Carolina's only Sacred Steel band. Hailing from a small church in Mt. Airy, they play in a style of religious music found in select African American Pentecostal-Holiness churches.
The appearances of Wu Opera Troupe of Yiwu City result from a festival partnership with UNCG.
Jensen and Cai Tang of Greensboro made it happen.
Although retired from teaching at UNCG, Jensen works with its International Programs Center. Both he and Tang know performers from China and elsewhere. 
Last year, they arranged for singers, dancers and musicians from Inner Mongolia to perform at the folk festival.
Jensen saw "joy and happiness" as he watched last year's audiences, he said.
He expects the same this year with Wu Opera Troupe of Yiwu City.
The troupe will travel with representatives of the Chinese People's Association for Friendship with Foreign Countries.
Wu Opera is an art form of traditional Chinese theater that combines music, vocal performance, dance and martial arts.
It grew from performances during the 16th and 17th centuries in public squares  — not in major opera houses, Jensen said.
Performers will don elaborate costumes to perform short segments from five traditional operas.
After the folk festival, the troupe will perform Monday at UNCG and Tuesday at Guilford College.
"If we can just enjoy the beauty of artistry from different cultures in different parts of the world," Jensen said, "we are all better off."