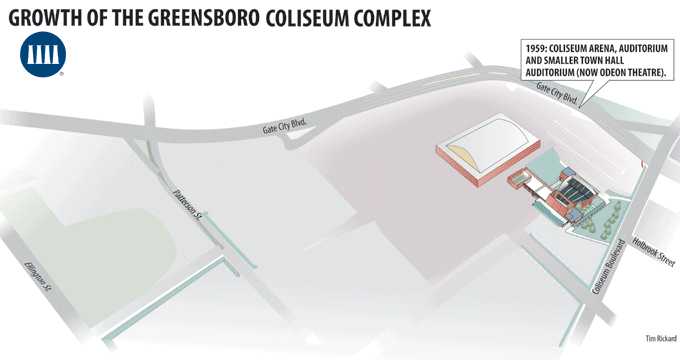 GREENSBORO — Without the Greensboro Coliseum complex, former Mayor Jim Melvin once said, "We would be just a big country town."
Over its 60 years, the sprawling entertainment compound at 1921 W. Gate City Blvd. has attracted spectators who drive for hours to its major concerts, sporting events and trade shows.
Paul McCartney, Bruce Springsteen, The Rolling Stones, Elton John, Prince, Aretha Franklin, Taylor Swift, Elvis Presley, Jay-Z and Kanye West have performed there.
College basketball championships and the U.S. Figure Skating Championships have played out there. 
But support for the coliseum has been a divisive issue from the start. It took four referendums just to get it built on old fairgrounds.
Some referendums to finance renovations faced the same struggles.
But that hasn't stopped expansion over the years.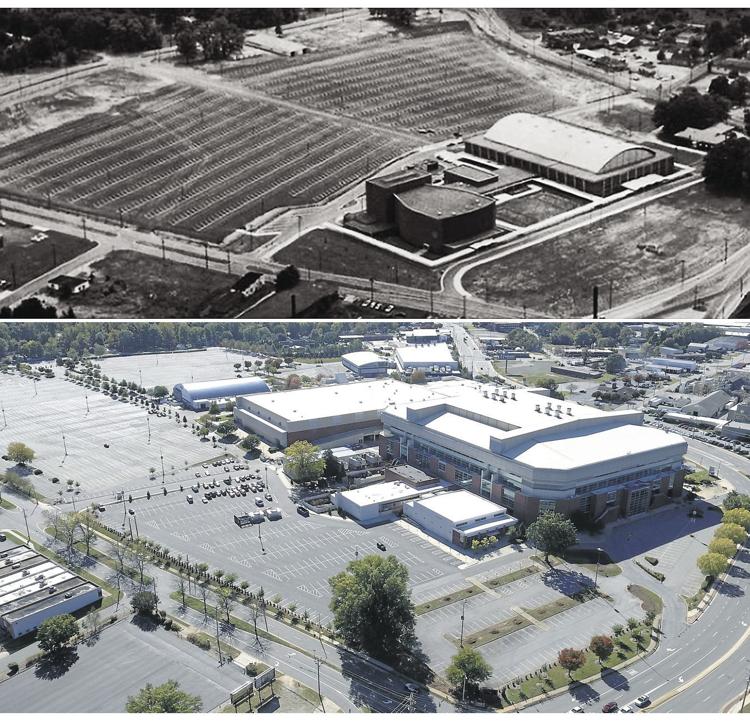 In September, it opened its latest venue, the multipurpose, club-style Piedmont Hall.
In March, it will extend its reach to center city, with the opening of the Steven Tanger Center for the Performing Arts, which it will manage.
The 3,000-seat venue at North Elm and East Lindsay streets and Abe Brenner Place will host touring Broadway productions and concerts, Guilford College's Bryan Series speakers, Greensboro Symphony Orchestra performances, a Greensboro Opera production, comedy shows and family entertainment.
The coliseum's reach stretches beyond Greensboro. It books and manages non-Wake Forest University events in Winston-Salem, at Lawrence Joel Veterans Memorial Coliseum and BB&T Field.
As the coliseum celebrates its 60th anniversary, we bring you 60 things you might not know about the complex that makes the city much more than a big country town.
1. The coliseum has hosted nearly 71.4 million people from its first event on Oct. 29, 1959, through July 30.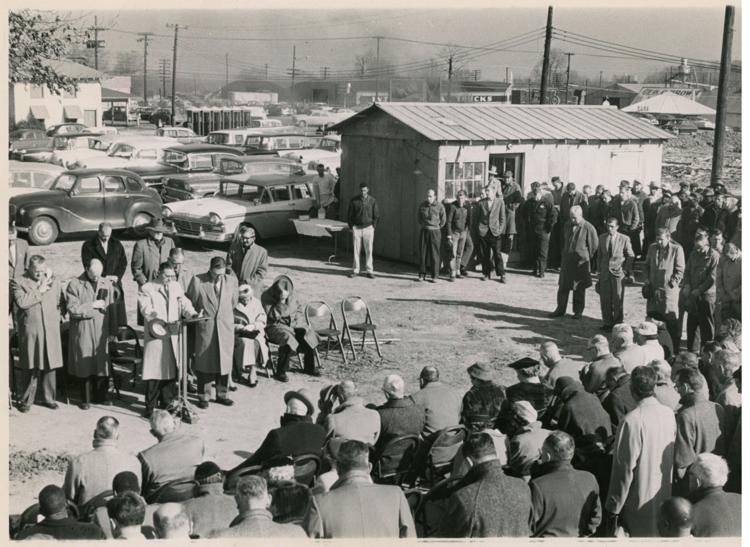 2. The Greensboro War Memorial started with an arena for 7,100, an auditorium for 2,400 and a 300-seat Town Hall Auditorium (now Odeon Theatre), built at a cost of $4.5 million. Now its nine Greensboro venues range from the 300-seat Odeon to the 22,000-seat arena. 
3. The coliseum hosted its first event, a Holiday on Ice show, on Oct. 29, 1959. Annual ice shows such as Disney On Ice would become a staple of family events.
4. In its 60-year history, the complex has had only four managing directors: Robert Kent (1958–1969), James Oshust (1970–1985), James Evans (1986–1994) and Matt Brown (1994–present).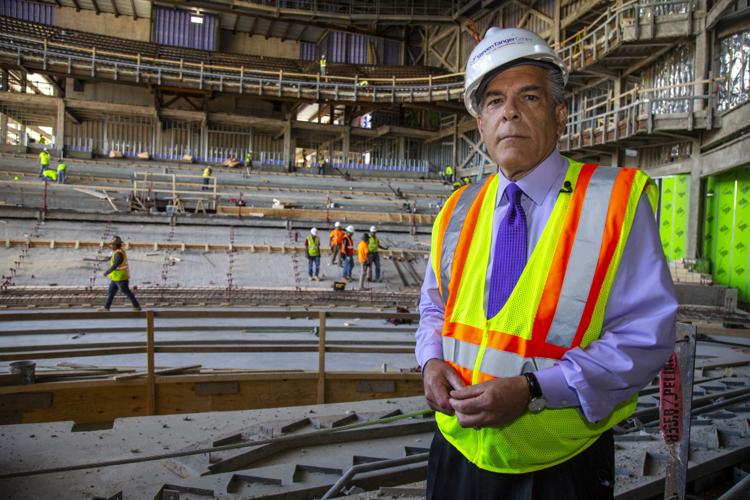 5. Managing director Matt Brown is the city's highest-paid employee. Now in his post for 25 years, he is paid $340,725 a year.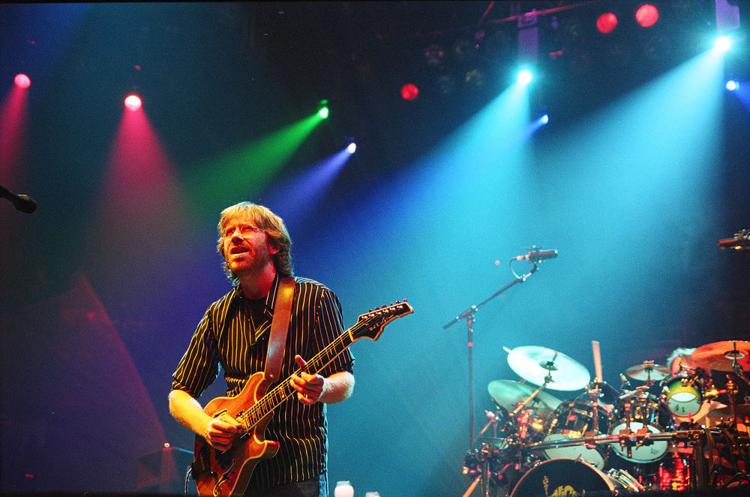 6. The coliseum set a single-day concert attendance mark on March 1, 2003, with a sold-out crowd of 23,642 to see the group Phish. It was the largest indoor-arena crowd ever for a Phish concert.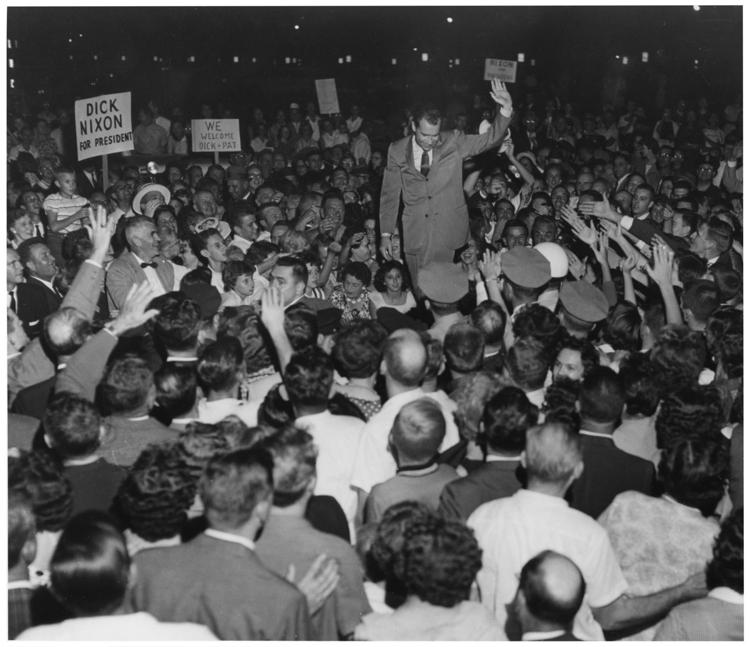 7. Presidential candidate Richard Nixon blamed his loss in the 1960 election on events that began on Aug. 17, when he bumped his knee against a car door at the coliseum. It led to his hospitalization for a staph infection and lost time on the campaign trail. He said the injury caused him to perform poorly in his first debate with John F. Kennedy.
8. Another presidential hopeful, Sen. Barack Obama, hosted a Town Hall Meeting at War Memorial Auditorium on March 26, 2008, during his campaign tour. Obama would later be elected the nation's 44th president.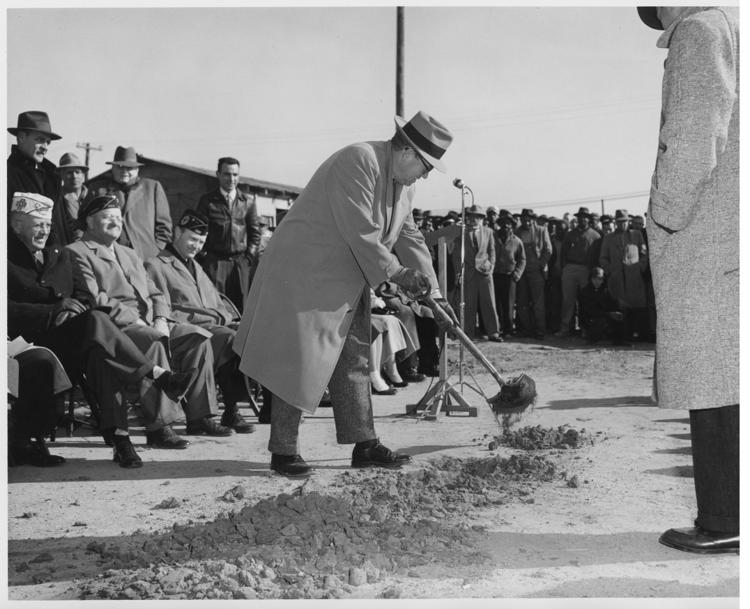 9. Mayor William H. Sullivan proposed the coliseum in 1944 as a memorial auditorium to the city's war dead. It would take 15 years, another war, four referendums and two N.C. Supreme Court decisions to make it happen. Sullivan died before it opened.
10. Sullivan's grandson, Bill Sullivan, now serves on the War Memorial Commission, the coliseum's City Council-appointed advisory board.
11. Back when musician Jimi Hendrix was little known, he played warm-up before a performance by the popular Monkees on July 12, 1967, creating an audience sensation by destroying his guitar. When Hendrix became a big star, guitar-bashing was a highlight of his concerts.
12. The highest-grossing concert in coliseum history, with more than $2.3 million in ticket sales, featured legendary musical artist Paul McCartney on Oct. 30, 2014. The sold-out show of more than 15,500 drew fans from across the nation.
13. After a long, contentious search for a site, the Greensboro War Memorial Fund Commission in 1956 settled on a 45-acre tract owned by the Central Carolina Fair Association. Residents had gathered there for the fair and other events for half a century.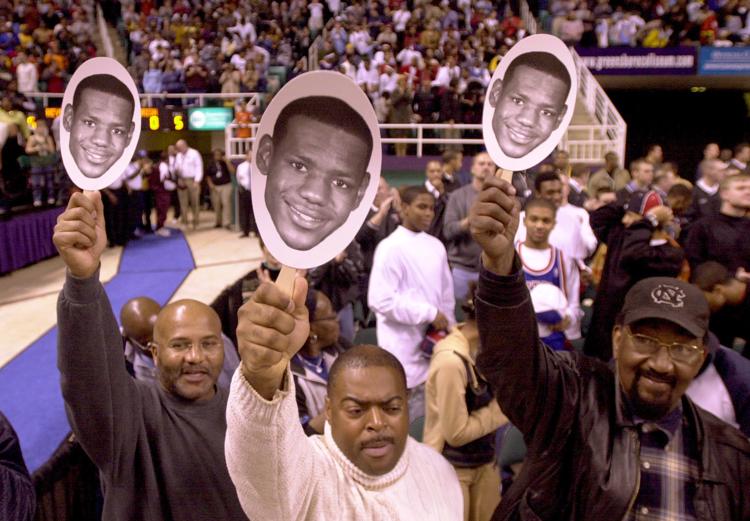 14. Future NBA superstar LeBron James, playing for Akron, Ohio's St. Vincent-St. Mary High School, played in the North Carolina Scholastic Classic in January 2003. The five-game tournament drew a crowd of 16,220, a state record for high school basketball. James, who had been proclaimed as the nation's best high school player, scored 32 points in his team's defeat of Winston-Salem's R.J. Reynolds — the three-time defending 4-A state champions.
15. ACC basketball has been a mainstay at the coliseum, which hosted its first ACC basketball game on Dec. 16, 1959, as N.C. State lost to Villanova. A month later, the coliseum hosted its first all-ACC game with UNC beating Wake Forest, 62-59.
16. Legendary Tar Heel coach Dean Smith won his first Men's ACC Basketball Tournament title when the tournament came to Greenboro for the first time, March 9-11, 1967. UNC beat Duke 82-73 to win the first Greensboro Tournament. In 2020, the Men's ACC Tournament will return to the coliseum after being away for five years. It was last here for a three-year run in 2013-'15.
17. In Greensboro's only Final Four, N.C. State beat UCLA in double-overtime in March 1974 to end the Bruins' streak of seven consecutive national titles before defeating Marquette to take the national title.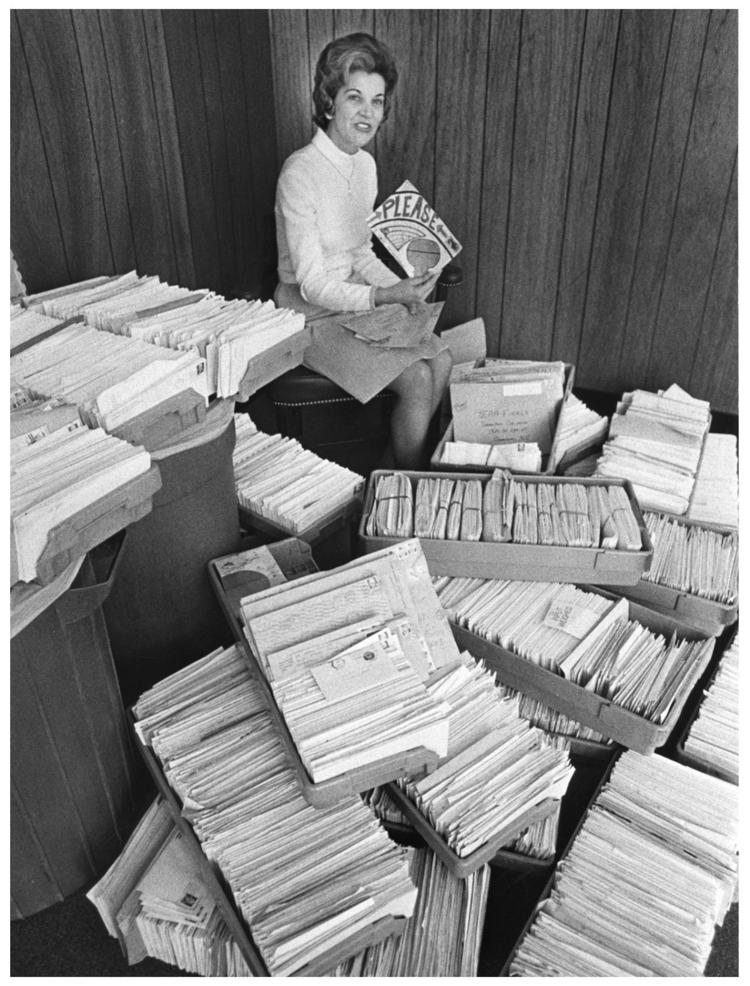 18. Fans rushed to the Post Office on April 1, 1973, to mail their requests for tickets for that 1974 NCAA basketball tournament. Requests could not be postmarked before 12:01 April 1. Coliseum Manager Jim Oshust said there would probably have to be a drawing for the 8,800 seats available to the public.
19. Basketball superstar Michael Jordan led the UNC Tar Heels to a 72-65 win over Georgia Tech on Jan. 29, 1983. Jordan registered his highest scoring game as a Tarheel, scoring 39 points before 14,423.
20. In the fastest concert sell-out in coliseum history in December 1999, more than 22,000 tickets for a Backstreet Boys concert sold in 78 minutes. The concert grossed more than $1 million in ticket sales and set a then-attendance record of 22,450.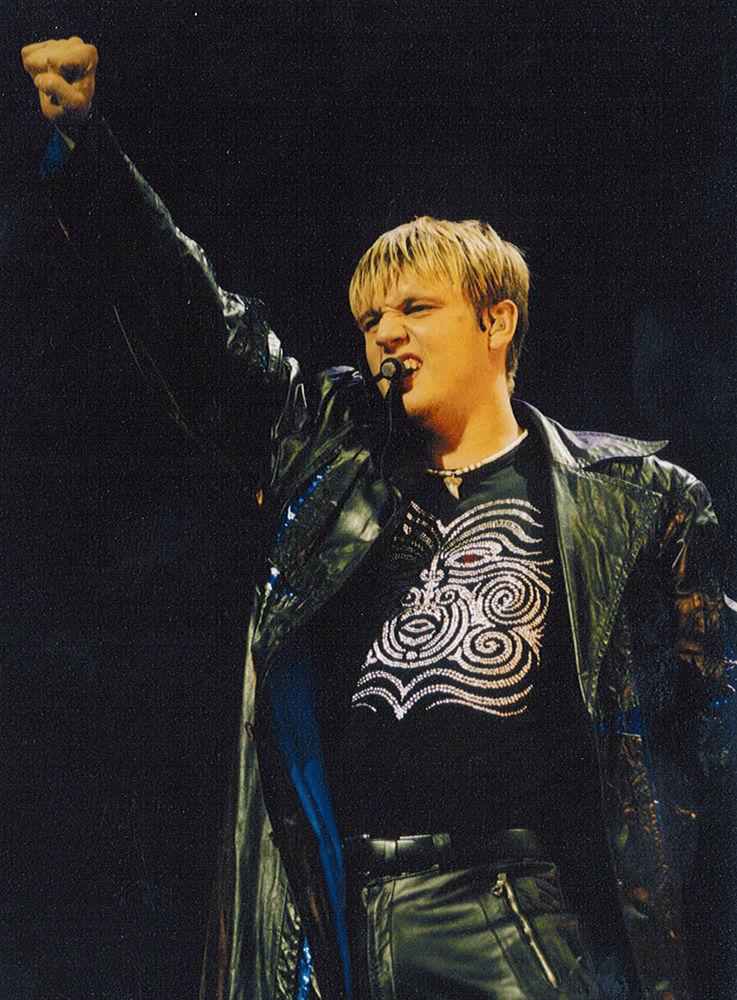 21. Jim Oshust resigned as coliseum managing director in August 1985, after evidence implicated him and two of his lieutenants in the misuse of coliseum funds. He received a suspended sentence through a plea arrangement.

22. Ringling Bros. and Barnum & Bailey Circus came to town in March 1960 for the first of what became an annual visit by the "Greatest Show On Earth." Through 2014, crowds watched as its elephants and other animals walked from the circus train at the Pomona rail yard to the coliseum. The circus played to record crowds in its final run at the coliseum, from Feb. 8-12, 2017. It marked the 58th consecutive year it had been held in Greensboro, for nearly 4 million fans over 571 performances. The circus closed three months later, after 146 years.
23. The Rolling Stones played their first coliseum concert on Nov. 12, 1965. The "World's Greatest Rock & Roll Band" would return for shows in 1975 and 1978, performing for more than 38,000 fans over their three appearances.
24. Elvis Presley performed in Greensboro for the first time on April 14, 1972. He played there four more times over the next five years before he died in August 1977.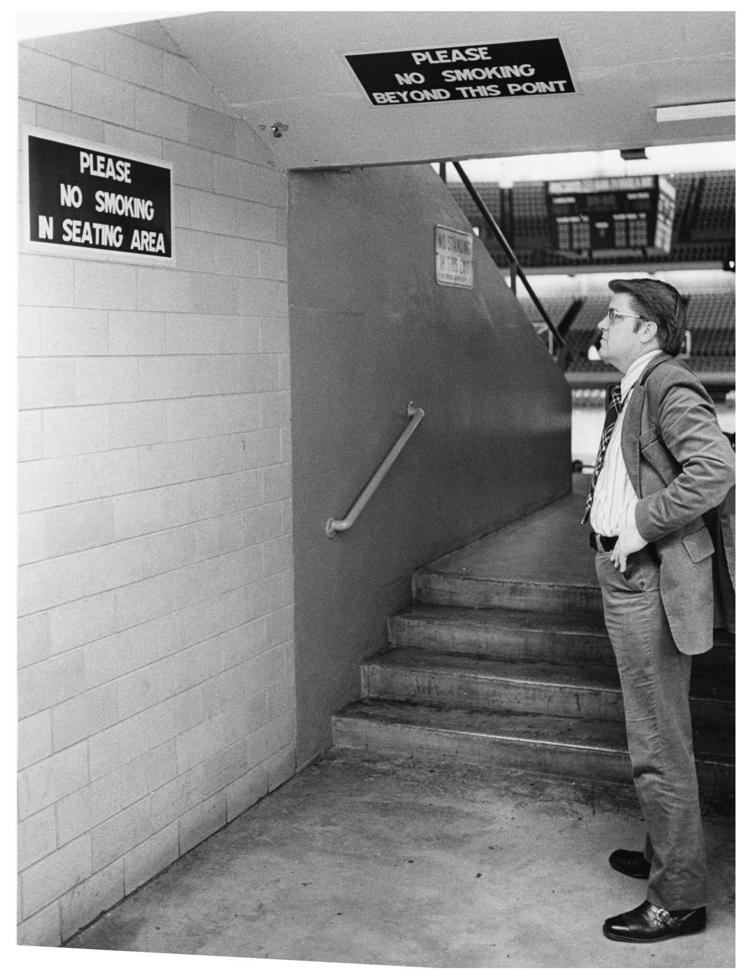 25. The arena instituted a voluntary no-smoking policy on Feb. 26, 1974. Some spectators at basketball and hockey games that week jeered announcements made over the public address system. Smoking was still permitted in the concourse and lobby areas.
26. The N.C. State Wolfpack beat Maryland 103-100 in overtime in March 1974 to capture the ACC title, in what many consider the greatest college basketball game of all time.
27. Professional basketball came to the coliseum in fall 1969, as the Carolina Cougars of the American Basketball Association started their first season. Although based in Greensboro, the team also played some games in Winston-Salem, Charlotte and Raleigh. The Cougars left North Carolina and became The Spirits of St. Louis in the 1974-75 ABA season. Pro basketball is back at the coliseum complex now with the Greensboro Swarm heading into their fourth season in the NBA's G-League.
28. An angry Dave Cowens, a star of the NBA Boston Celtics and future member of basketball's Hall of Fame, was ejected from an exhibition basketball game on Oct, 4, 1972 against the ABA Carolina Cougars, after he dropped-kicked the ball more than 100 feet into Section 107.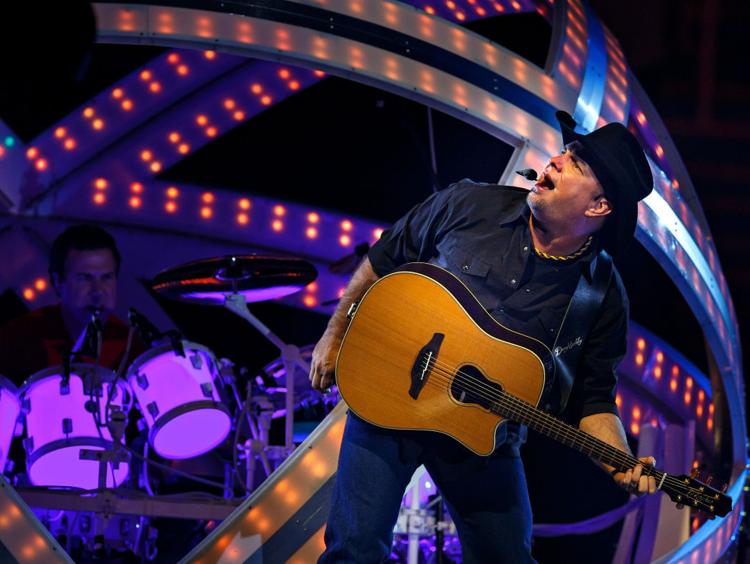 29. Legendary country music star Garth Brooks performed a record-setting run of five consecutive concerts from Nov. 19-23, 2014. The five shows combined to sell more than 70,000 tickets and gross more than $4 million in ticket sales. The final performance was highlighted by a national television performance broadcast live on the American Music Awards.
30. The Jackson 5, including Michael Jackson, performed at the coliseum on Dec. 29, 1970. The brothers would return on five other occasions.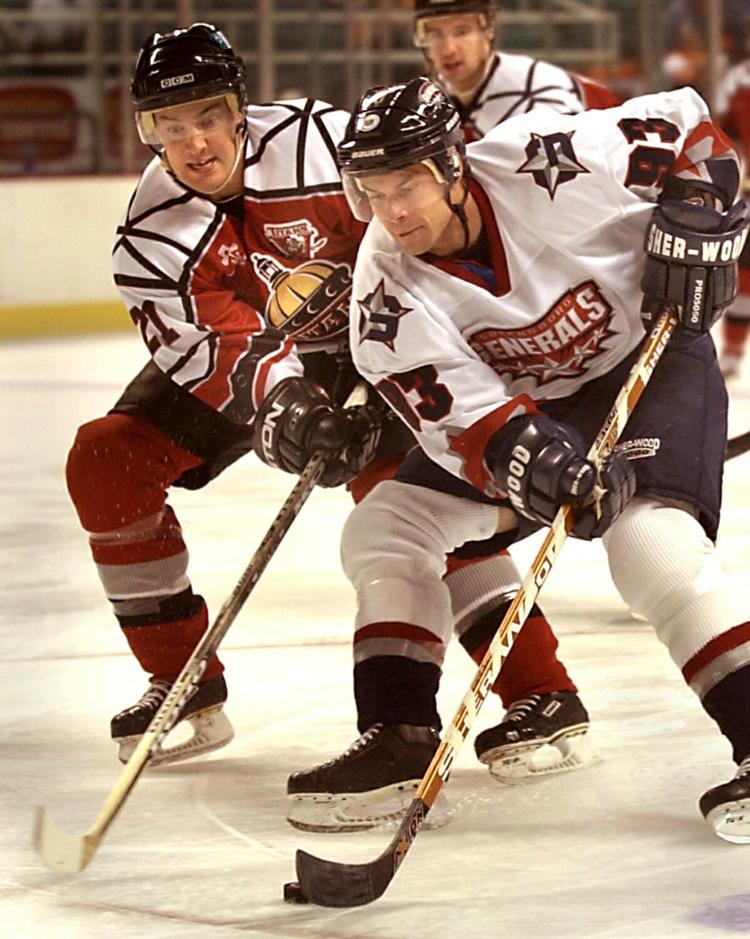 31. The coliseum hosted its first hockey game on Nov. 11, 1959, as 3,014 watched the Greensboro Generals of the Eastern Hockey League defeat the Washington Presidents, 4-1. 
32. The arena broke several hockey attendance records. It set an East Coast Hockey League attendance record on Jan. 15, 1994, as 20,908 fans watched the Greensboro Monarchs take on the Charlotte Checkers.  The Carolina Monarchs set a new all-time single game American Hockey League attendance record of 20,672 on Jan. 18, 1997, for the team's 5-4 victory over the Kentucky Thoroughblades.
33. The coliseum hosted the first regular season NHL game in the Carolinas on Oct. 10, 1997, as 18,661 saw the Carolina Hurricanes (formerly Hartford Whalers) fall 4-3 to the Pittsburgh Penguins. The Hurricanes called the arena home for two seasons, 1997-98 and 1998-99.
34. The Greensboro Generals won the Eastern Hockey League championship in 1963. Pat Kelly scored the winning goal in the team's most memorable game at the coliseum, a two-overtime, 96-minute thriller.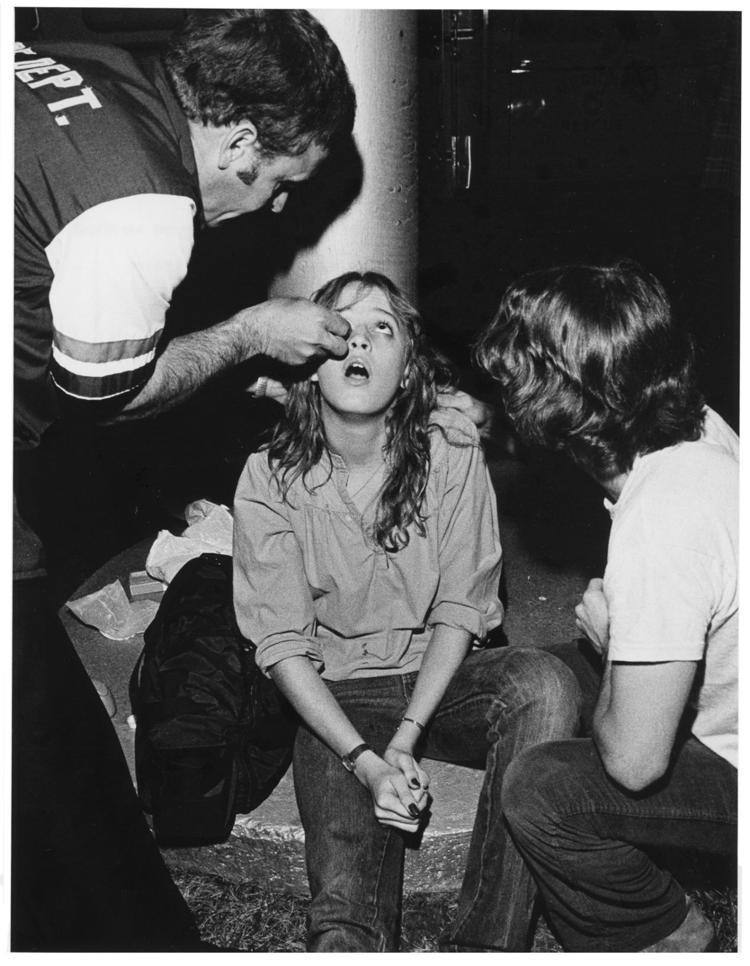 35. About 60 people were treated for eye irritation on Oct. 27, 1979, after someone set off a tear gas grenade at the end of a concert by rock group Kansas. Police said it was a miracle that no one was seriously hurt in the panic.
36. Singer Chubby Checker, who popularized The Twist and other dance styles, came to the coliseum on March 10, 2003, but not to perform. He watched his basketball-playing daughter, Mistie Bass, help the Duke Blue Devils beat the North Carolina Tar Heels in the title game of the Women's ACC basketball tournament.
37. Greensboro's Page High School played Goldsboro High School in March 1983 for the NCISAA State Championship. Pirate stars Danny Manning and Haywood Jeffires (Tournament MVP) led the Pirates in defeating Goldsboro for the state championship in front of 13,000 fans.
38. A sold-out crowd of 15,419 watched "good guy" Ric Flair beat Harley Race during Starrcade on Nov. 24, 1983, the first wrestling event ever shown on closed-circuit TV.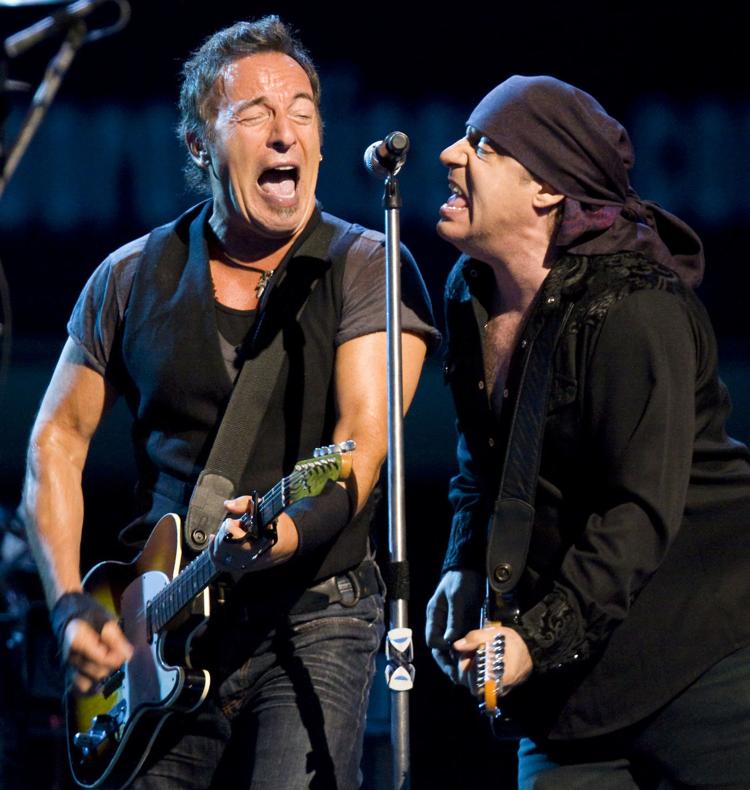 39. Bruce Springsteen & The E Street Band performed for more than 30,000 fans over two nights on Jan. 18 and 19, 1985. In all, Springsteen has appeared seven times at the coliseum, and owns two of its top 10 all-time concert attendance records.
40. The Grateful Dead drew more than 29,000 "Dead Heads" over two nights on March 31 and April 1, 1991. The band returned on Easter Sunday in April 2009 to kick off its first tour in five years.
41. Computerized ticketing arrived in April 1983, through a contract with Ticketron.
42. The complex reopened in December 1993 after undergoing extensive renovations. They included increasing arena seating capacity to 23,500, renovating the upper and lower concourses, adding locker room facilities, creating a media room and expanding the Special Events Center.
43. James Evans resigned as managing director in 1994, after he faced accusations of racism, a romance with a female staff member, and shoddy, slow work in expanding the coliseum.
44. The complex hosted training sessions for the U.S. Olympic Women's Gymnastics team in June 1996, as it prepared for the 1996 Games in Atlanta. The "Magnificent 7," as they would later be known, would win the first-ever Gold Medal for the U.S. in the Women's Team Competition.
45. The arena hosted 14,293 patrons in June 1997 for the first of what would become the annual Superjam concert series. Superjam would become a summer tradition, drawing some of the biggest names in urban music, including Lil' Kim, LL Cool J, Dru Hill and J. Cole.
46. The Craftsmen's Christmas Classic began in 1974, and it's still going. It celebrated its 25th anniversary on Thanksgiving weekend 1998 with 27,000 visitors and a record number of participating artists and craftspeople. 
47. The coliseum hosted arena football for the first time on April 16, 2000, as the Greensboro Prowlers of the arena football 2 (af2) league make their debut. Playing in front of a sold-out crowd of 12,571, the Prowlers beat the Roanoke Steam, 37-22.
48. Piano legends Billy Joel and Elton John played in concert on April 28, 2001, drawing a sold-out crowd of 21,935. It sets a coliseum record for highest gross tickets sales of $2,042,490, and finished as the fifth highest-attended concert in coliseum history.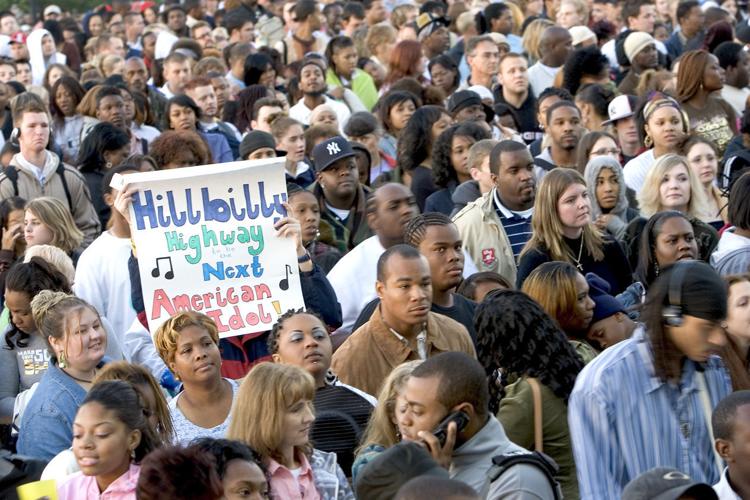 49. Thousands of hopefuls from across the nation auditioned on Oct. 3, 2005 for the "American Idol" television program. Audition highlights aired in January 2006 as part of the mega-hit show's fifth season.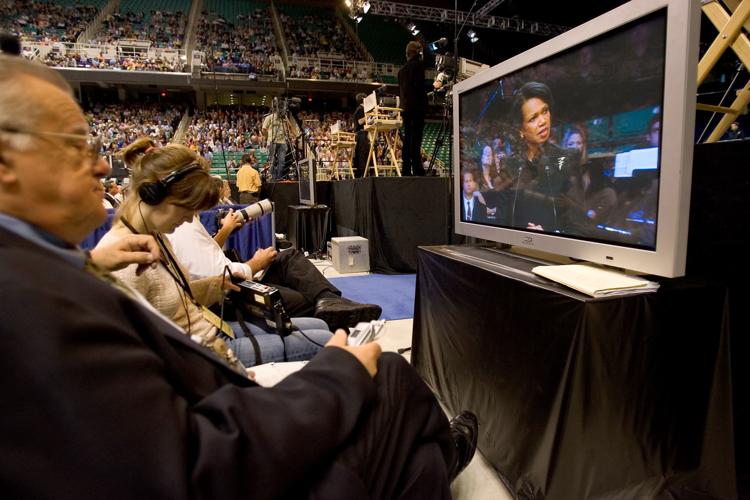 50. U.S. Secretary of State Condoleezza Rice spoke on June 14, 2006, the final day of the four-day Southern Baptist National Convention. The convention is the largest annual gathering of any religious organization in the world, and the 2006 convention marked the first meeting in North Carolina since 1916.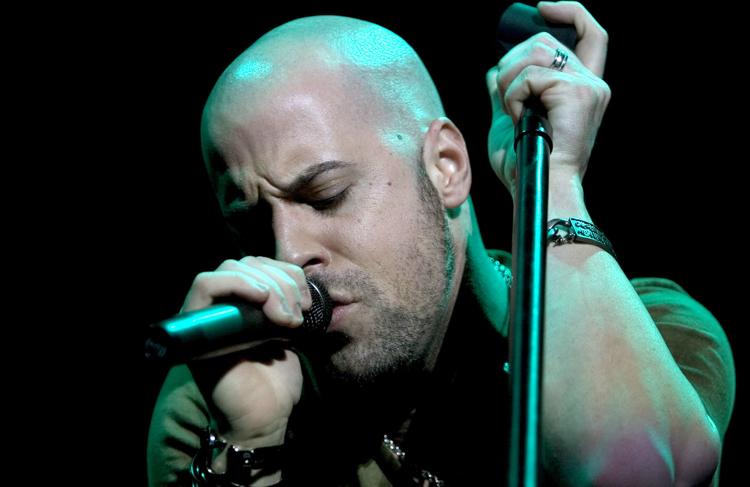 51. Bon Jovi performed in concert on March 16, 2008, with special guest Daughtry. It marked a homecoming for frontman Chris Daughtry, a Guilford County native who placed fourth in 2006's fifth season of the popular television competition series "American Idol." He joined Bon Jovi on stage before 22,115 fans, the third largest concert crowd in coliseum history.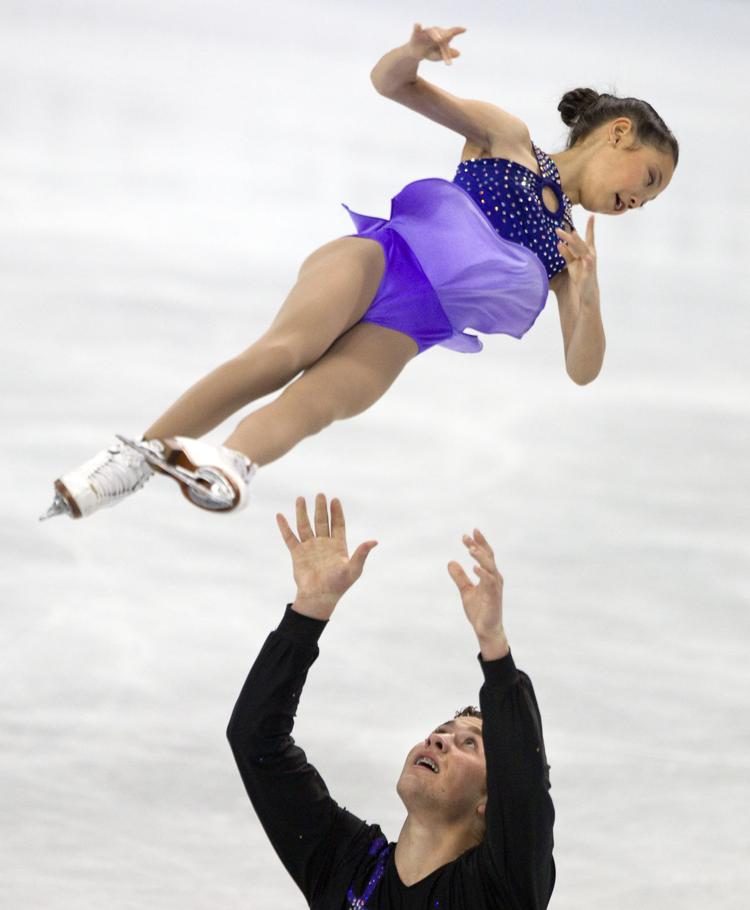 52. For the first time in history, the U.S. Figure Skating Championships were held in North Carolina from Jan. 22-30, 2011. They returned in 2015 and will be back in January. 
53. The coliseum hosted the 2014 AT&T American Cup, the country's most prestigious international gymnastics invitational, on March 1, 2014. Broadcast live on NBC Sports, it brought top gymnasts from around the world and drew 9,076, the event's highest attendance in a non-Olympic year since 2000.
54. R&B group The O'Jays played the last concert in War Memorial Auditorium on Sept. 5, 2014, before it closed down for good.  It was razed that year, to be replaced in 2020 by the Steven Tanger Center for the Performing Arts downtown. 
55. In the ACC's 50th Anniversary season from March 7-16, 2003, the coliseum hosted both the conference's women's and men's basketball tournaments. It marked the first time a facility hosted both tournaments back-to-back in the same venue. The coliseum did it again in 2004 and 2006, the latter when it hosted the ACC women's and men's basketball tournaments and NCAA men's tournament over back-to-back-to-back weeks. It marked the first time in history that the same arena hosted three post-season college basketball tournaments in successive weeks. The three-week stretch included 28 games in 10 days.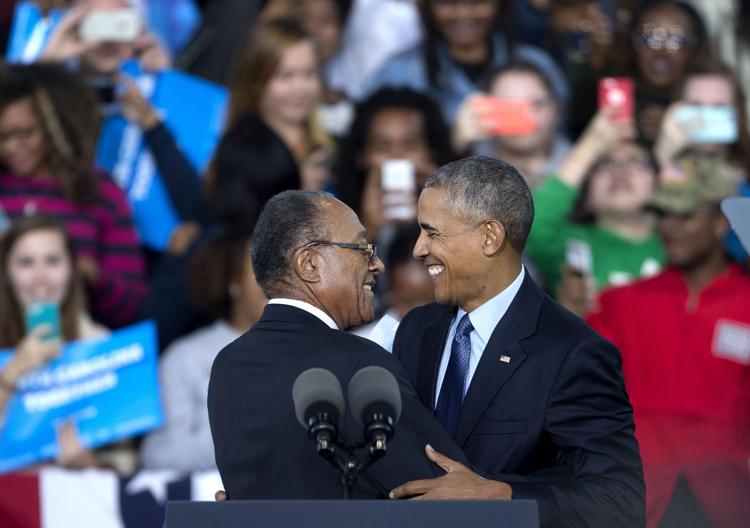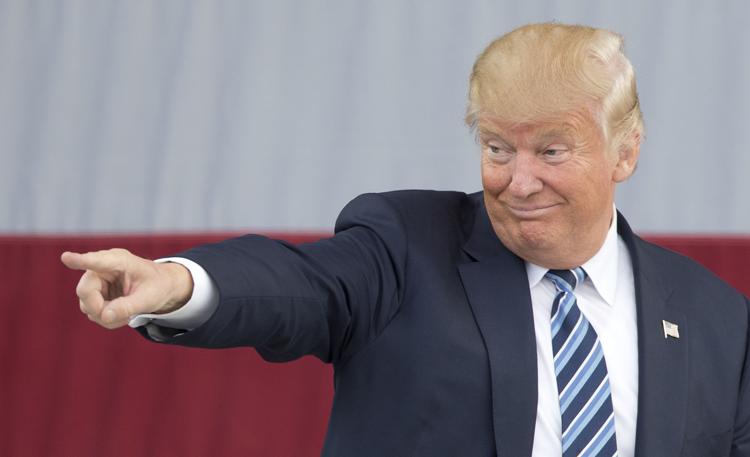 56. The complex hosted several political rallies in October 2016, including an Oct. 11 campaign stop at White Oak Amphitheatre by President Barack Obama in support of Democratic presidential candidate Hillary Clinton. Three days later, Republican Presidential candidate Donald Trump hosted a rally there.
57. Three premier concerts from Oct. 14-17, 2017, drew a combined total attendance of more than 42,600. Country music superstars Tim McGraw & Faith Hill played on Oct. 14. Oct. 15 featured a sold-out show by rock n' roll icons the Foo Fighters, followed by another sold-out concert from the legendary group the Eagles on Oct. 17.
58. The White Oak Amphitheatre, Greensboro Aquatic Center, ACC Hall of Champions and The Terrace all opened in 2011.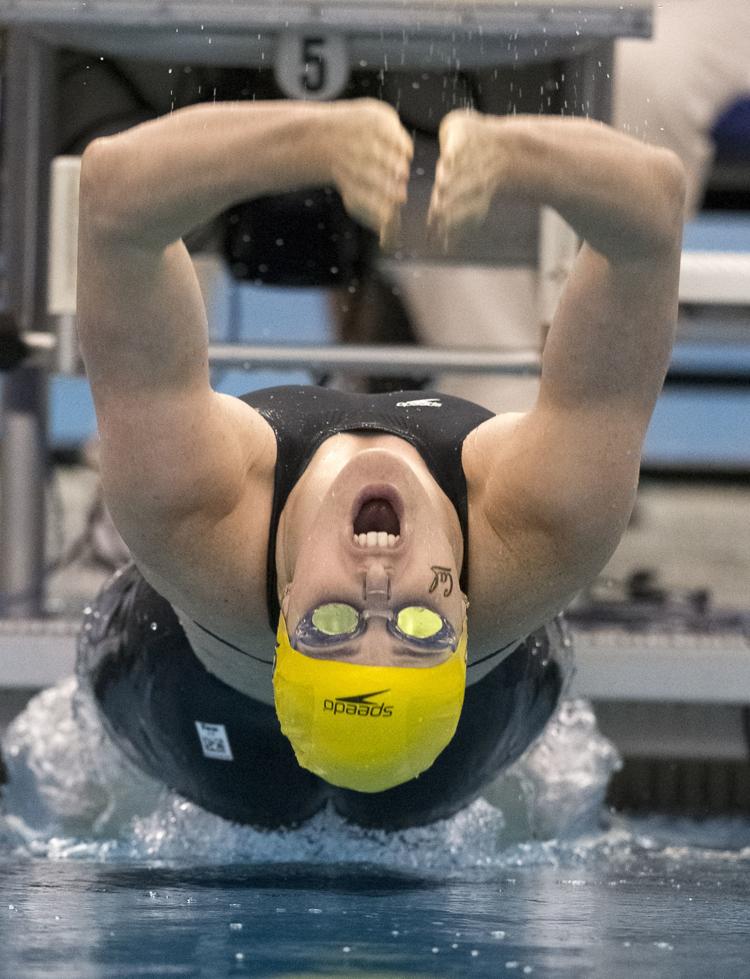 59. The Greensboro Aquatic Center has twice hosted the USA Swimming Winter Nationals, which featured Olympic stars Katie Ledecky, Simone Manuel and Nathan Adrian; the USA Swimming Winter Junior Nationals in 2013; the NCAA Division I Women's Swimming & Diving Championships in 2015, and the YMCA Short Course Nationals, the largest national meet in the country. Greensboro has hosted the last eight and has it again in 2020. It also has hosted the Community Swim Association's annual City Meet every year since 2012, featuring more than 2,000 swimmers ages 5 to 19. On Sept. 24, it opened its fourth pool.
60. Piedmont Hall opened Sept. 5 as the complex's newest, club-style multipurpose venue. It can fit 2,300 people in its 20,000 square feet.
SOURCES: Greensboro Coliseum, News & Record.
Greensboro Coliseum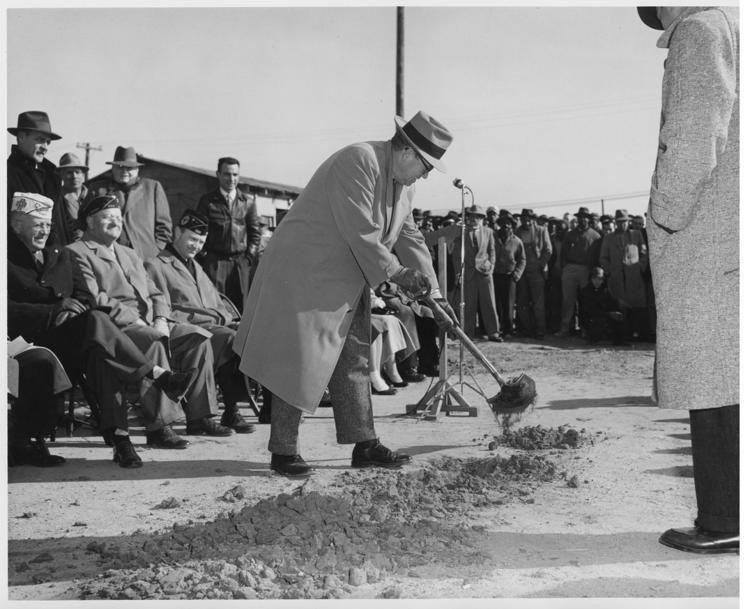 Greensboro Coliseum groundbreaking 1958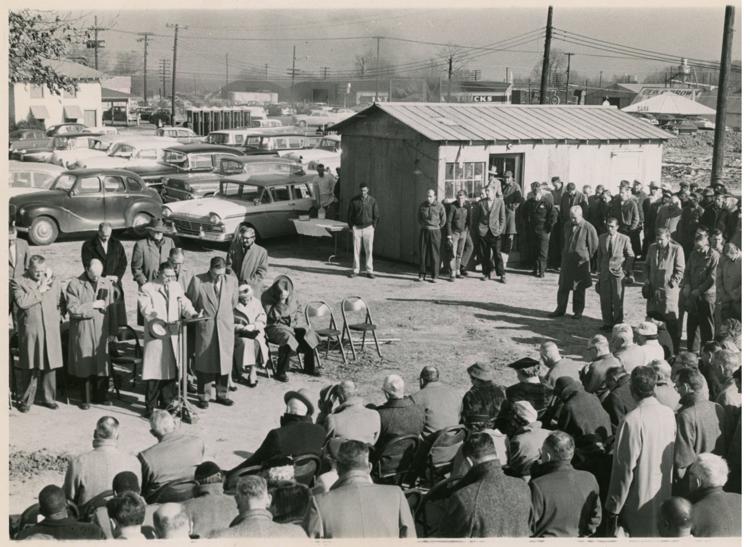 Aerial photos, then and now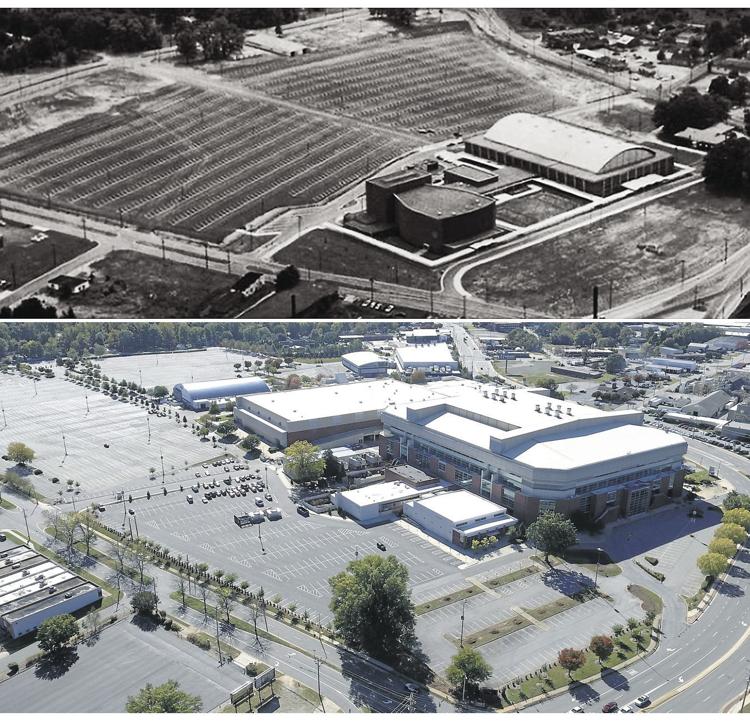 Greensboro Coliseum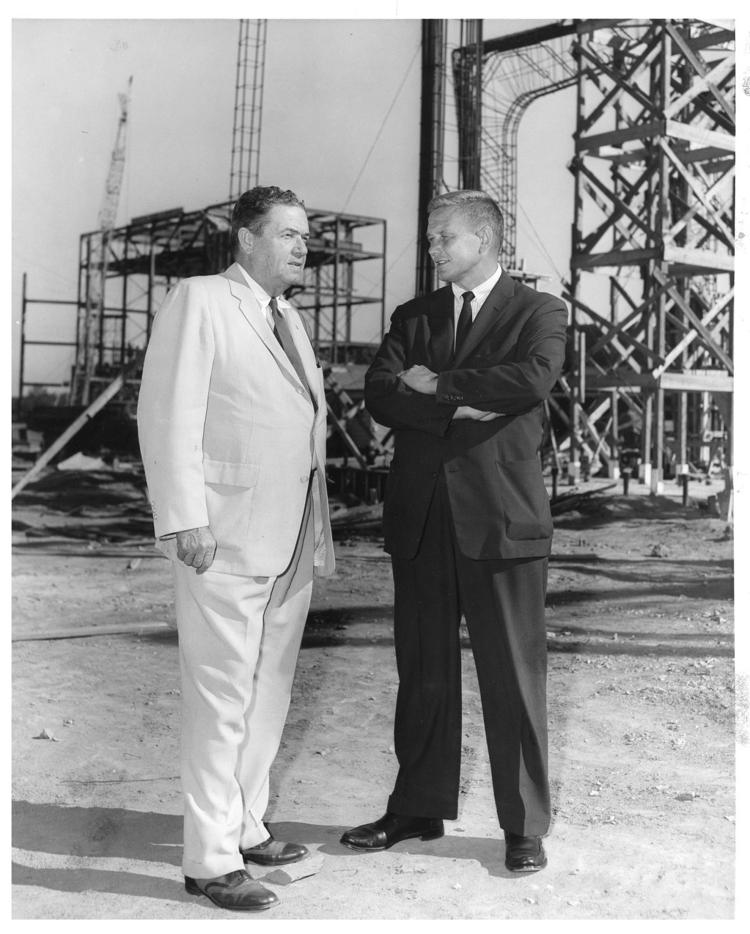 Richard Nixon visits Greensboro 1960
Greensboro Coliseum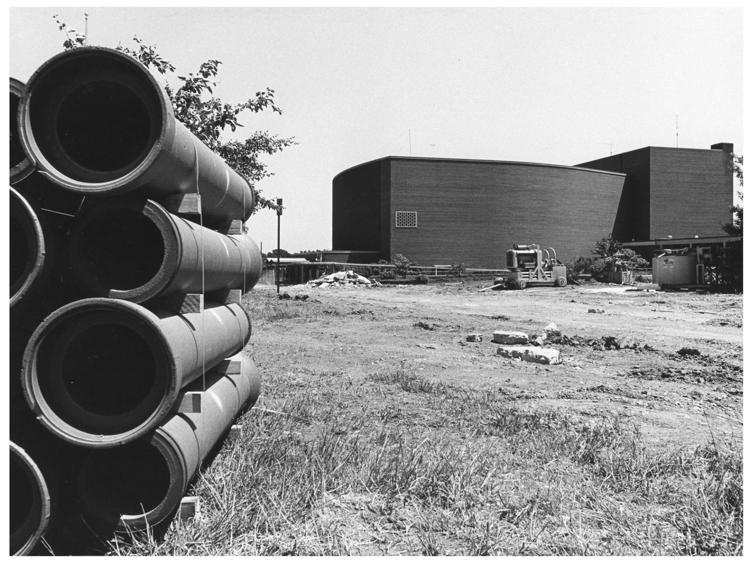 Greensboro Coliseum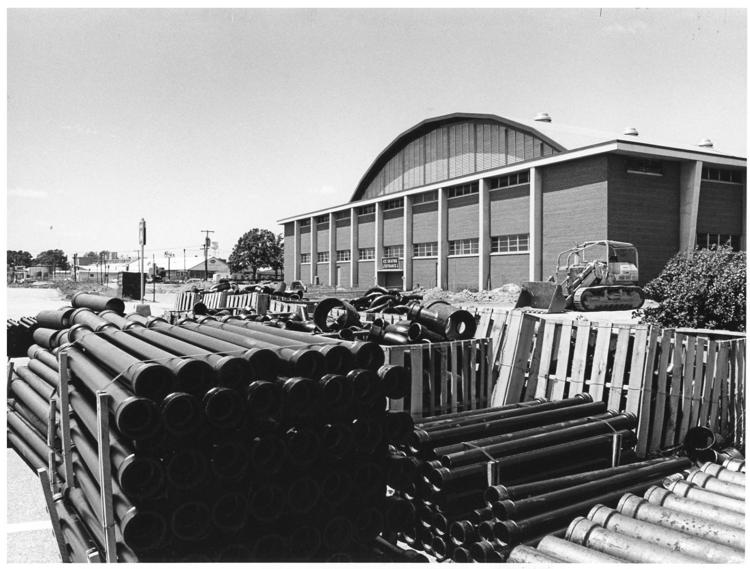 Greensboro Coliseum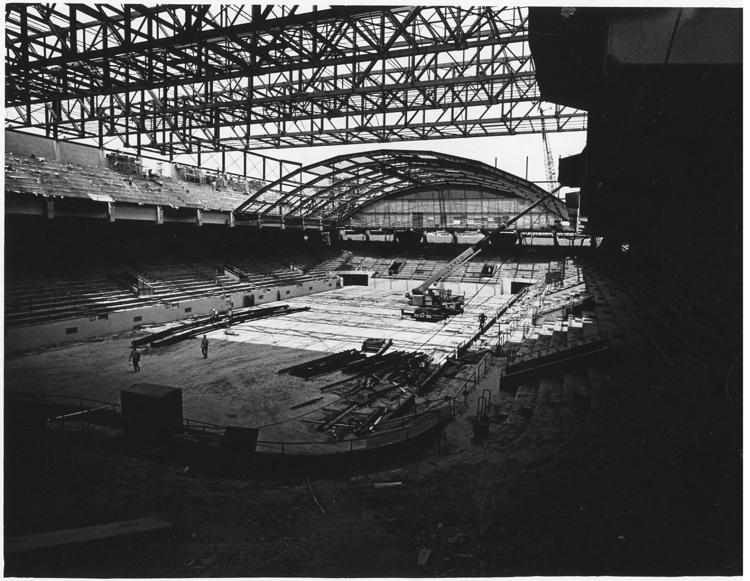 Greensboro Coliseum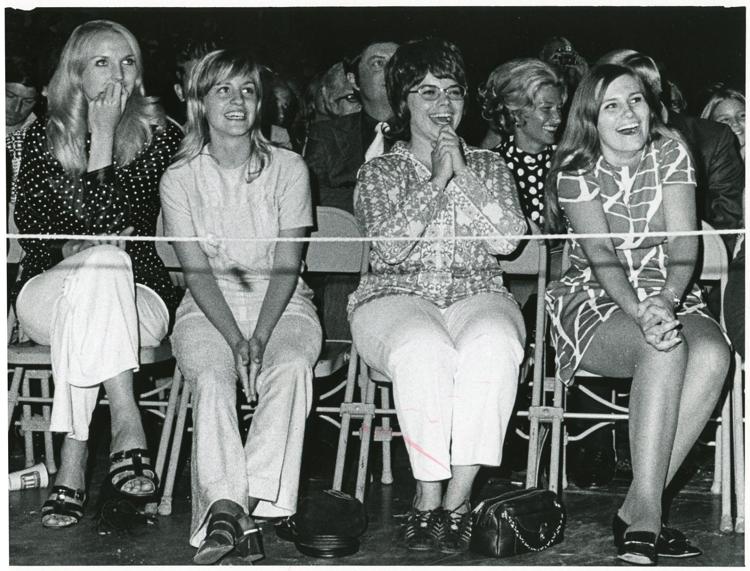 Greensboro Coliseum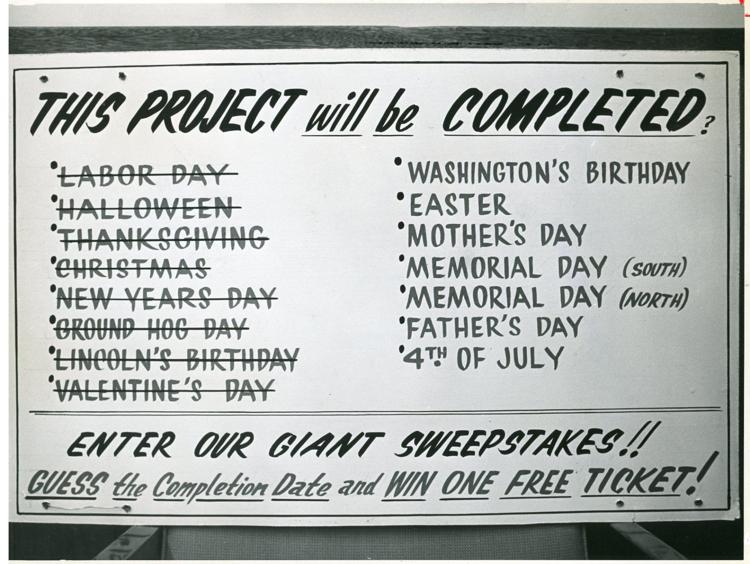 Greensboro Coliseum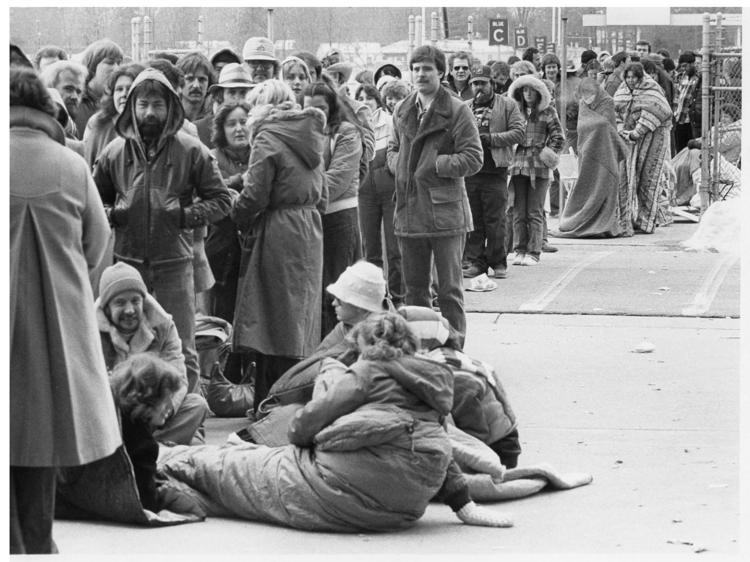 Greensboro Coliseum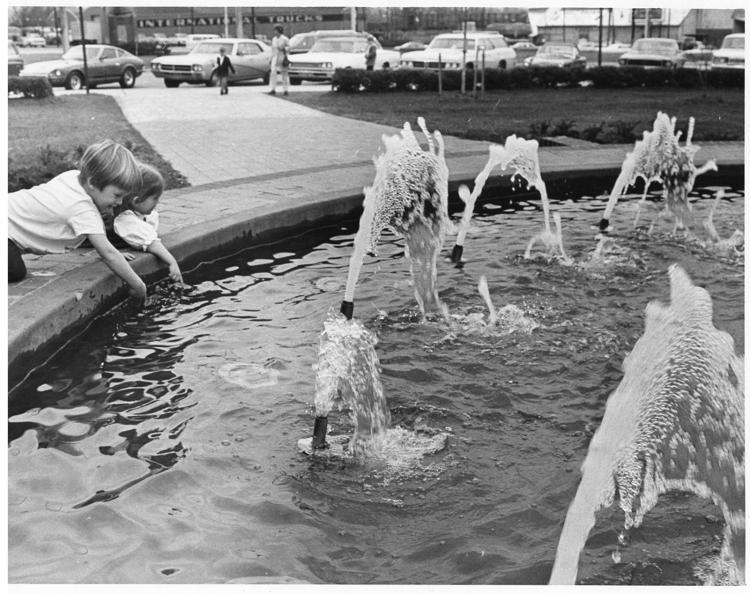 Greensboro Coliseum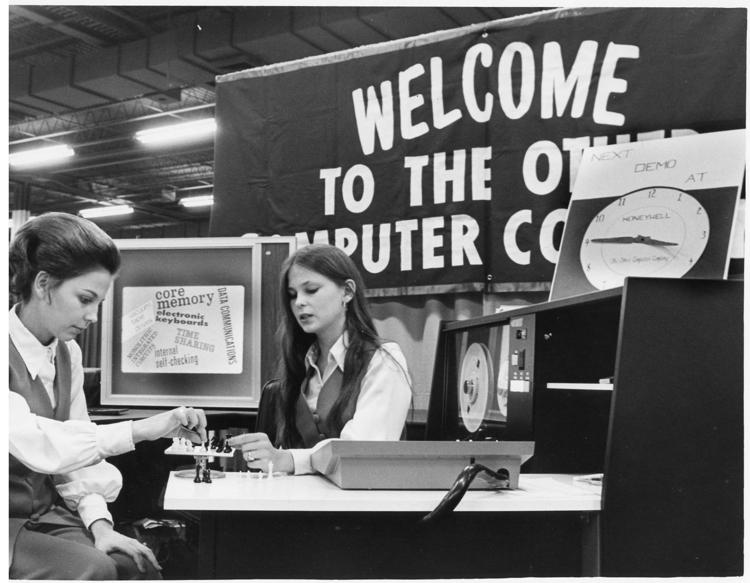 Greensboro Coliseum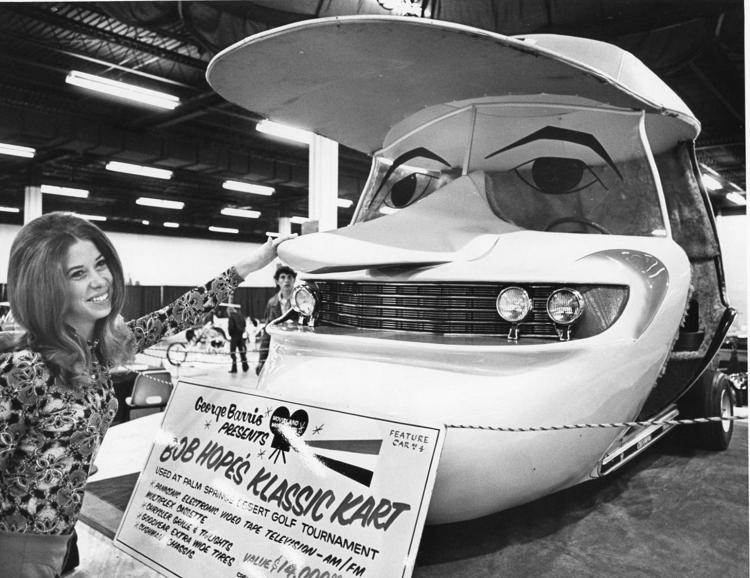 Greensboro Coliseum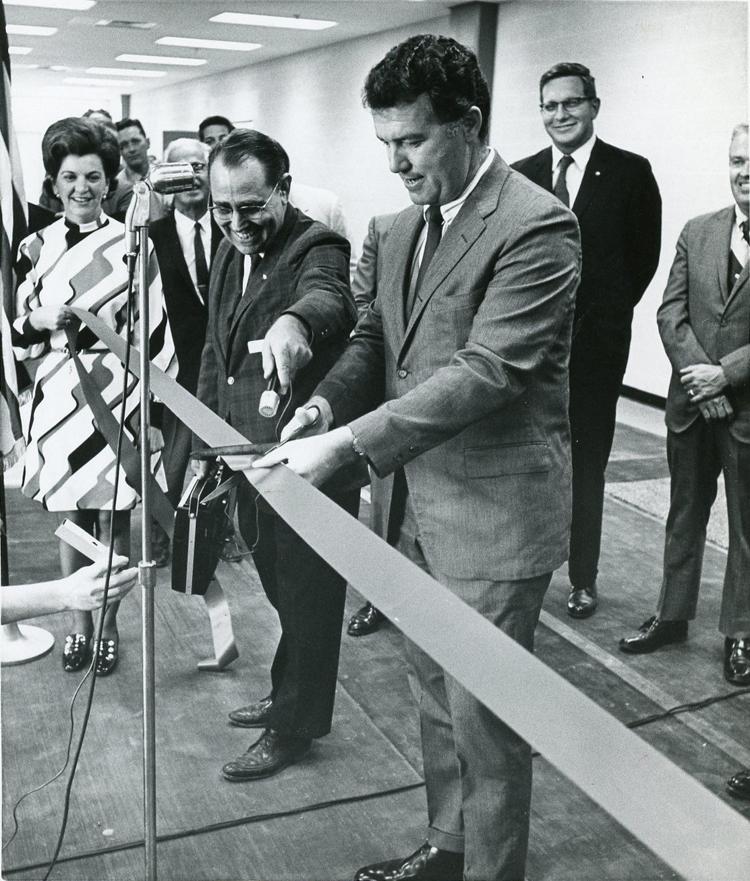 Greensboro Coliseum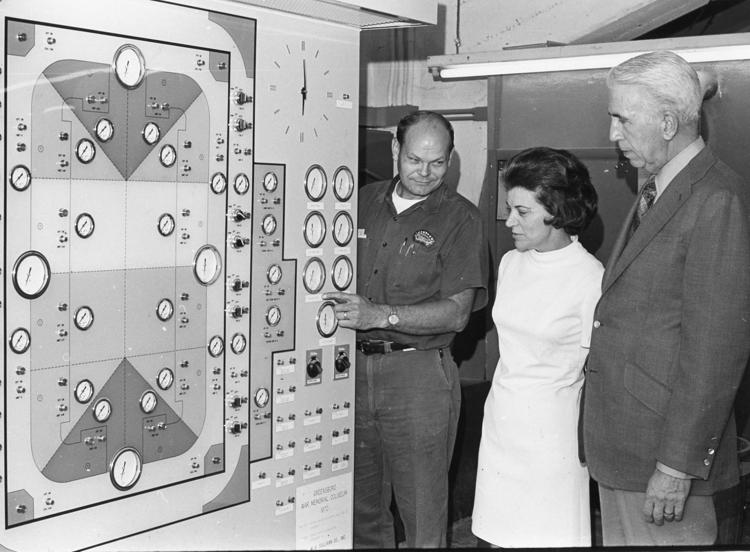 Demand for NCAA tournament tickets, 1973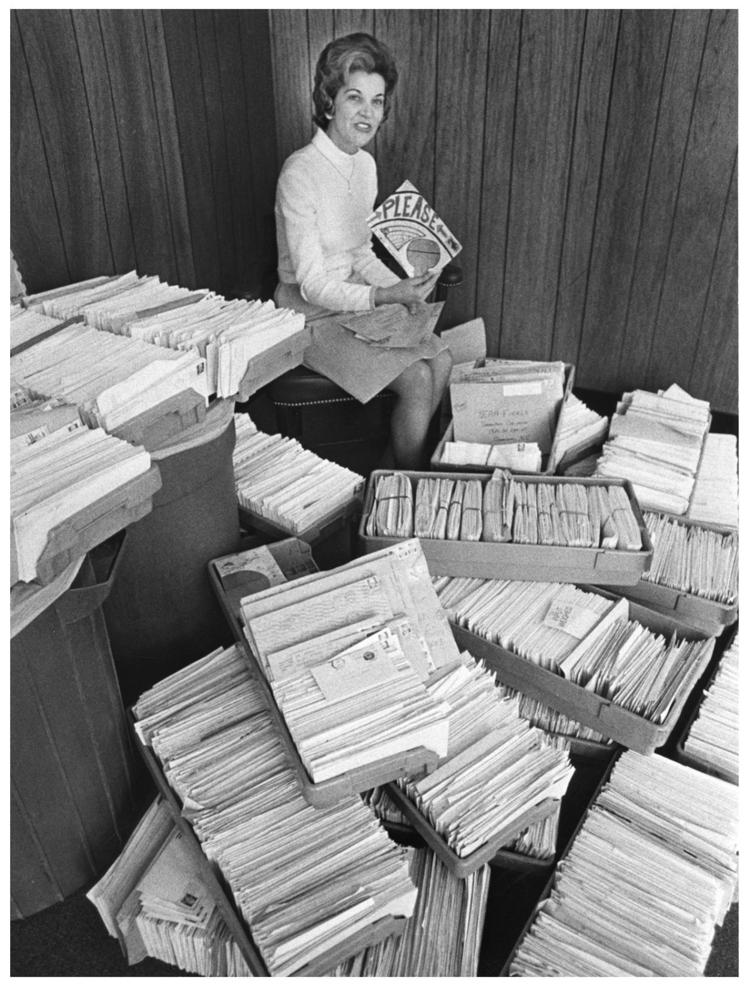 Greensboro Coliseum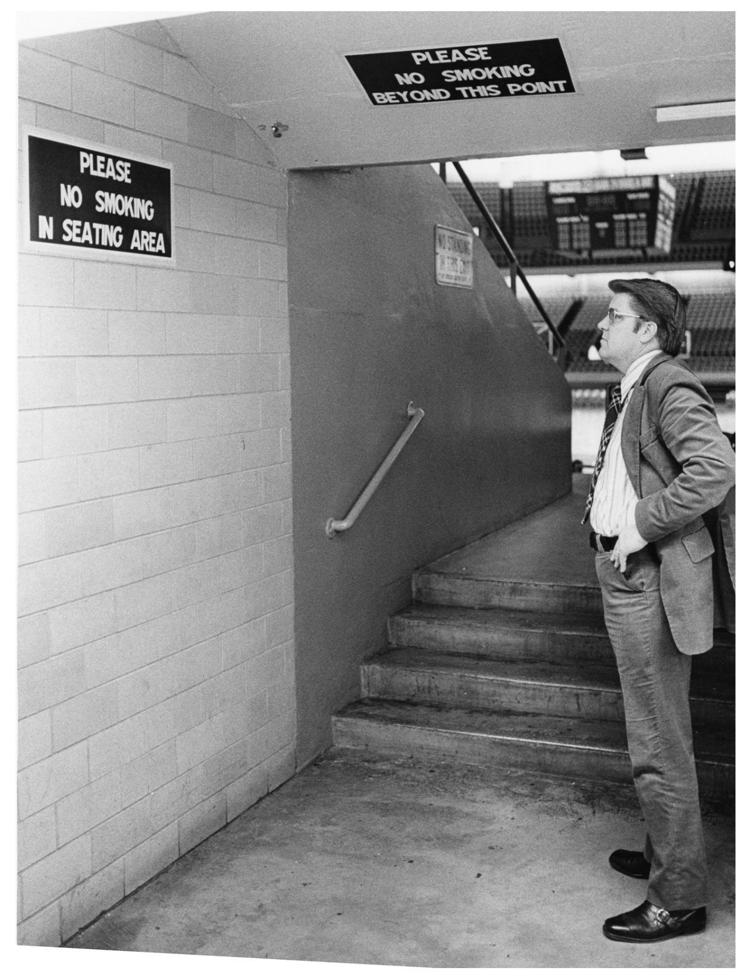 Greensboro Coliseum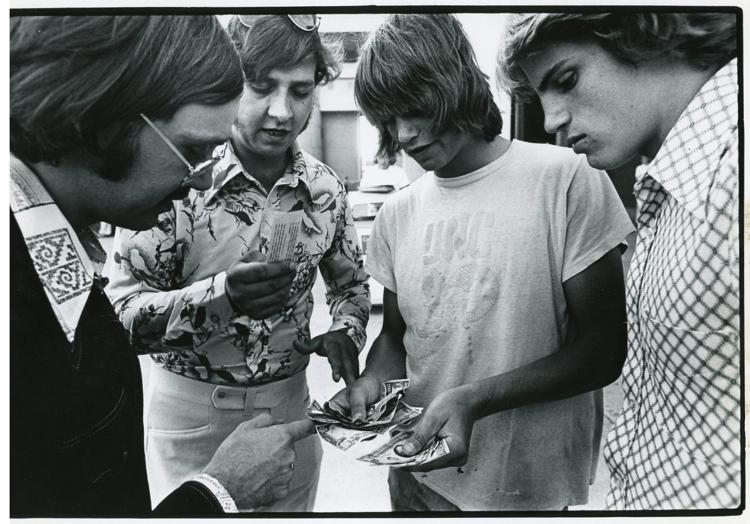 Greensboro Coliseum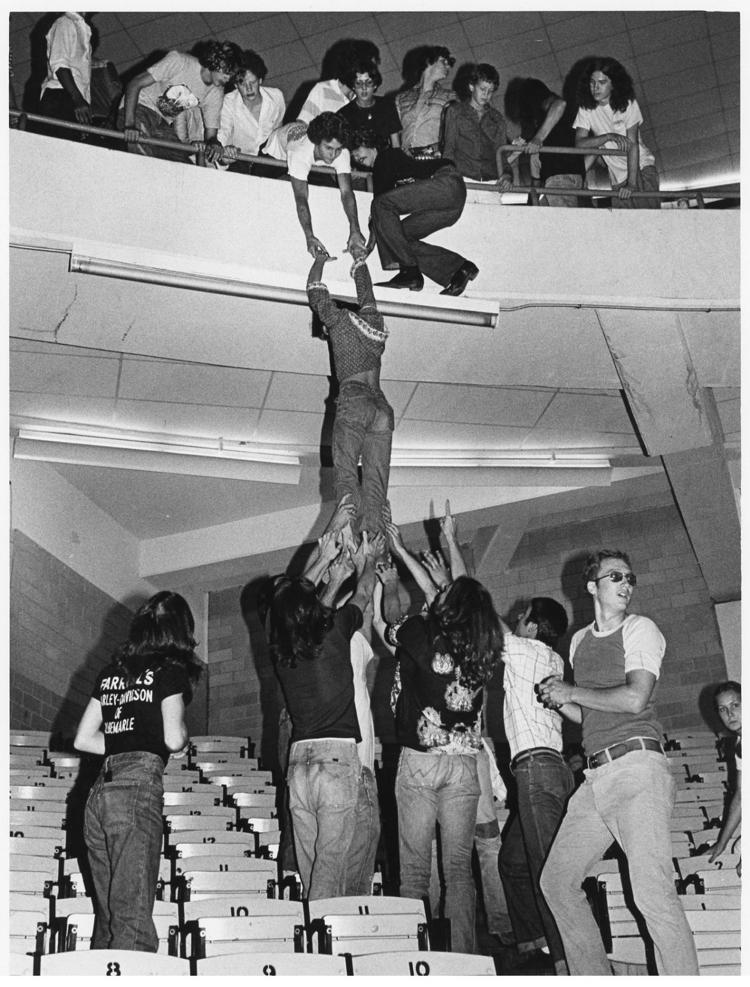 Greensboro Coliseum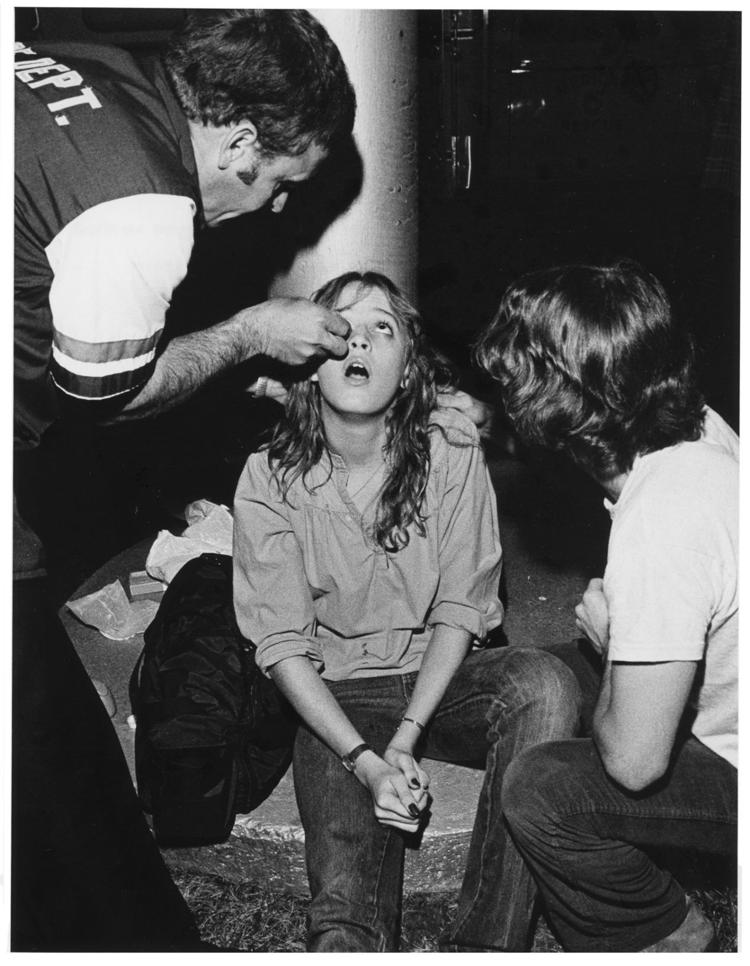 Greensboro Coliseum