One by one, the makers and the innovators take the stage and pitch the audience on their dreams.
An app to facilitate the ordering of food. A line of easy-to-assemble furniture. A cloud-based documentation service. A system to detect maintenance issues in vehicles.
The budding entrepreneurs were taking part in a pitch competition during Capital Connects in March.
The annual event at Greensboro's Gateway University Research Park was organized by Launch Greensboro and helps connect startups with investors.
It is also one of a number of resources for small businesses looking to get a leg up in the area.
In Greensboro, those trying to launch a new enterprise have networks of advisors they can turn to.
They can get help with accounting and marketing.
They can pursue small-scale manufacturing in shared makerspaces, or find a spot to set down their laptops in co-working spaces.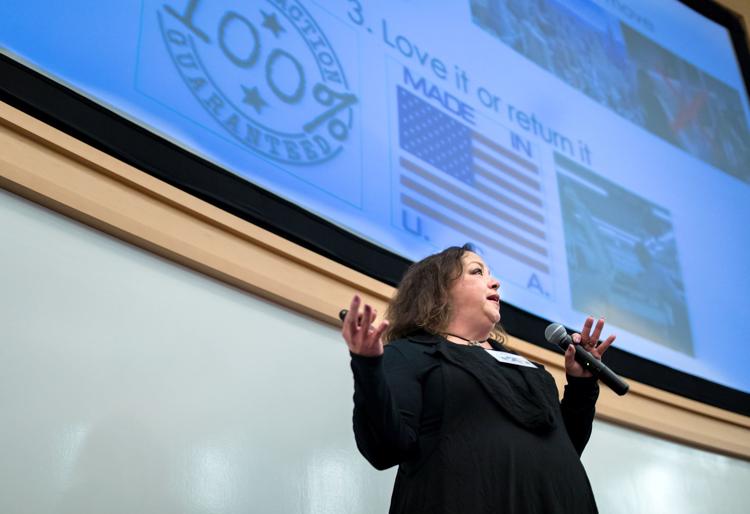 "The climate for entrepreneurs is great," says Kerri Hall, who was among those pitching at Capital Connects, and is founder of MicMag by Me, which sells heirloom-quality North Carolina-made furniture.
"You just need to plug yourself in, make those connections," Hall says. "There are so many different things you have to pull together as an entrepreneur. You could just be a conversation away from your next solution. There are a lot of people willing to step in and lend a helping hand, and that can be vital for a startup."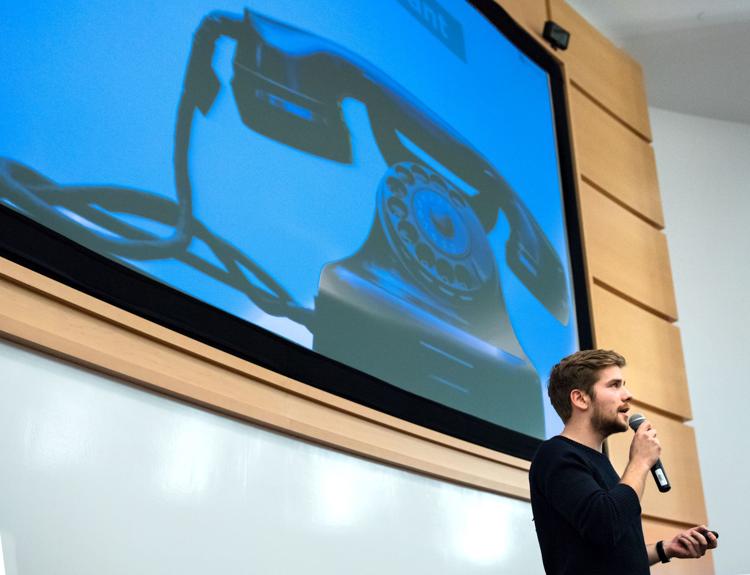 According to a 2017 report from the U.S. Small Business Administration, North Carolina is home to 871,000 small businesses (defined as entities employing fewer than 500 people). That's up from roughly 806,000 in 2012. Those businesses employ roughly 1.6 million, or about 45 percent of the state's workforce.
Last year, Forbes magazine named the state the best in the nation in which to do business, citing North Carolina's growth prospects, labor supply and regulatory climate. Among the 25 largest states, North Carolina was ranked ninth in startup activity by the Kauffman Foundation, a nonprofit organization that promotes entrepreneurial education.
According to the Durham-based Council for Entrepreneurial Development, the state's entrepreneurs raised more than $1 billion in capital in 2017.
But starting a business can also be a perilous journey. The Small Business Administration report notes that while 6,300 new business were created in the state during the second quarter of 2015, 6,600 "exited" during that time, meaning they no longer had any employees and had been closed for at least a year.
"You can go from subsidized housing" to living in a mansion through owning a business, says Sam Funchess, the president and chief executive officer of the Nussbaum Center for Entrepreneurship. But he also tries to temper expectations.
"We try to remove all the glitzy lights," he says. "We try to focus on the business foundations, rather than the glamour. Entrepreneurship is the hardest thing you will ever do. When you make mistakes, they can be financial disasters if you don't know what you're doing."
The Nussbaum Center is a business incubator, providing office and manufacturing space at a low cost, offering guidance to up-and-coming entrepreneurs, and helping those entrepreneurs make connections. Fifty-six businesses are housed in the center's campus on Elm-Eugene Street. Since the organization's founding in 1987, more than 400 businesses have set up shop in its facilities. Over the years, 63 percent of those companies have graduated to their own facilities.
Each month, the center hosts a meeting for the area's small-business resource providers. On a Friday morning in March, representatives from about a dozen such organizations were seated around a table in a conference room.
Among them was Phil Barnhill, director of operations for East Greensboro NOW. The organization, which promotes community and economic development and minority entrepreneurship, offers some programs and training to help develop viable business plans.
"A lot of people have an idea for a business, but don't really know how to get going or what to do first," he says. "We'll get people who've been doing something on the side, and are trying to figure out how to make that their primary source of income. We get people who want to start restaurants, want to do consulting businesses. We just try to plant the seeds, give you the tools to start. Some folks may not be quite ready, but some run with it."
Once someone gets a business plan together, they can also find a place to create.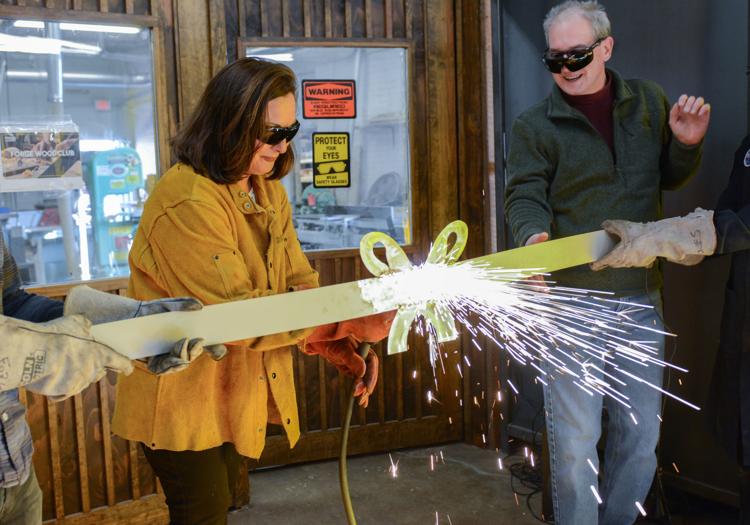 Greensboro Mayor Nancy Vaughan tore a metal ribbon with a plasma cutter at Forge Greensboro in March to inaugurate a new CNC machine.
To use the space, memberships start at $54 a month, though those who qualify can get a subsidized membership for $30 a month. Forge Greensboro has about 180 members.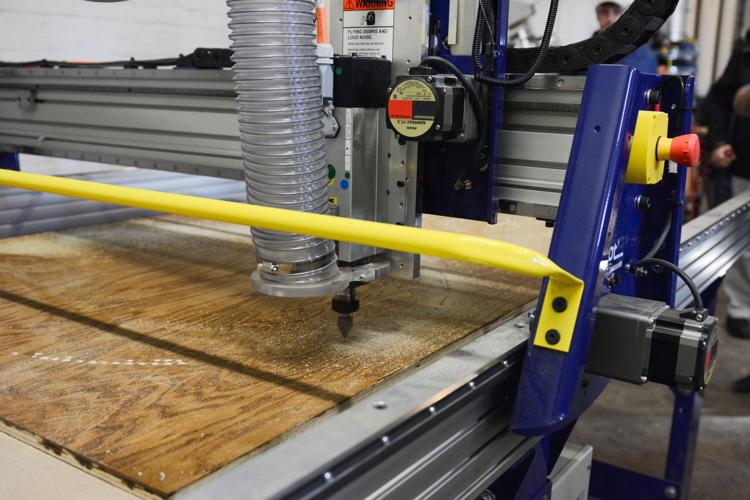 In addition to the CNC machine, the makerspace offers access to lathes, mills, sewing machines, 3-D printers and other tools.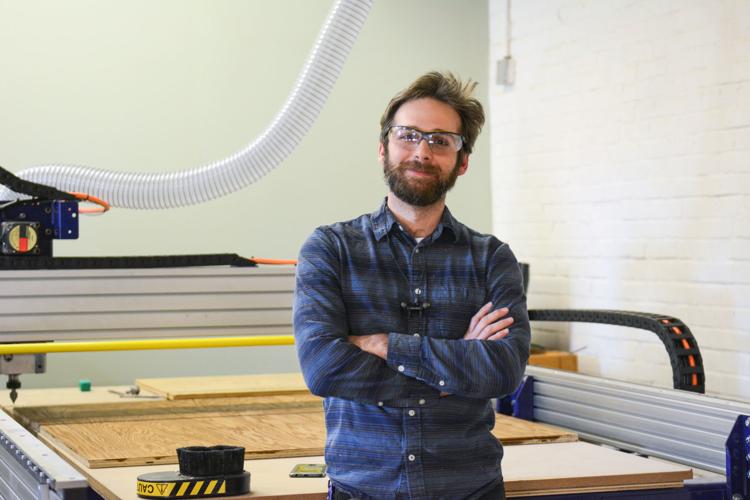 "Our goal here is to provide affordable access to technology," executive director Joe Rotondi says. "This removes a big barrier if you want to try something new. It's a big commitment if you have to get a loan for several thousand dollars if you're making a physical product. You can't run your business as a large company inside of here, but you can grow to a point where you can get your name out there and get your own space. We act as a nice bridge."