Each year, some of the most talented dancers and choreographers from across North Carolina are selected to bring modern and contemporary choreography and performance to audiences throughout the state during the North Carolina Dance Festival. The season starts on Oct. 4 in Asheville before heading to Durham and winding up in Greensboro Nov. 8-9.
Selected through a blind adjudication process, the dancers and choreographers represent a variety of cities in North Carolina, as well as styles and interpretations of modern dance.
This year, two of those artists hail from Greensboro. Though they differ in their approach to the medium, they share a longstanding love for dance that inspires them to share their art through choreography, performance, and teaching.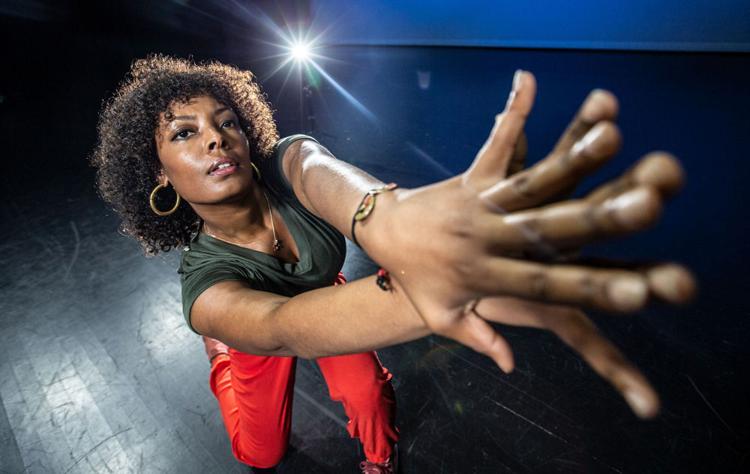 Similar Paths
Clarice Young started dancing at age three in her native Louisiana. As she pursued the art, she found it more than just a creative outlet or extracurricular activity.
"I was labeled a shy kid, and you kind of put that badge on and walk around with it for a while," says Young. "But then you realize it's not you, and dance helped me realize that. Dance opened my mind and my heart to new experiences, new people, and new things."
Through that experience, Young fell in love with dance and continued studying it in college, earning a Bachelor of Fine Arts from the University of Louisiana at Lafayette and a Master of Fine Arts from Hollins University. In college, she had another awakening that deepened her understanding of dance's importance to her own story; she learned about African dance.
"I was introduced to West African dance in college and thought, 'This is amazing,'" she says. "A lot of things have connection to African dance, from pliés to even improv. A lot of the things that drew me to dance have an African root, and showing that and exposing that really drew me in."
After college, she moved to New York, where she was an original member of Camille A. Brown & Dancers. She also performed with Ronald K. Brown's Evidence, A Dance Company and served as the rehearsal director. Two years ago, she moved to Greensboro to teach at UNC-Greensboro and research the intersection of African diasporic dance and contemporary modern dance.
Like Young, Christine Bowen Stevens began dancing at a young age, first taking lessons at five years old. She continued with dance through high school and college, studying at the UNC School of the Arts and Duke University, and eventually receiving a Master of Fine Arts in dance from UNC-Greensboro.
"I love being able to express feelings and desires through the medium of dance, and I enjoy the puzzle of putting things together to create a work," she says. "When creating, I don't see my dance as a whole entity until the end, so it feels like I have solved a riddle when it all comes together."
Over the last two decades, Bowen Stevens has helped others learn to solve the riddle, too. She has worked as a dance educator in public schools, offered private lessons, and now serves as an adjunct faculty member at UNC-Greensboro and High Point University.
"Teaching is a wonderful way for me to evaluate myself as an artist and share my passion for dance," she says. "It is fulfilling to see students grow and develop into their own."
Young shares that dual sense of fulfillment in teaching — the joy of bringing the art into someone else's life while learning and growing her own talent.
"Making those connections for myself helped me as a performer and as a person who relayed information as a rehearsal director and educator," she says.
Different Perspectives
One of the goals of the North Carolina Dance Festival's season is to explore the range of interpretation of modern dance. Both dancers' works and approaches exemplify that.
Bowen Stevens' performance looks to the future to explore interpretations of the self in today's society.
"My work, '2078,' is a dance work exploring form and function, and abstraction and realism, within the dance," she says. "It plays with ideas of conformity and the contrast of the group versus individual, with a futuristic vibe."
Young's work also explores one's sense of self, albeit in a more revolutionary spirit.
"My piece is called 're(belle)' — you can pronounce it either way — and I like the play on 'belle' and 'rebel,' and what that feels like as a woman in particular," she says. "You go to war every day in your own way. The costume has camouflage and red, and it's really about trying to figure out what it means to be a woman: to be strong and to not wait for permission to be your authentic self. It's really just you trying to get that acceptance from yourself."
Sharing that message of self-acceptance while showcasing the power of modern dance gets to the heart of what the North Carolina Dance Festival is all about. And for Young and Bowen Stevens — along with their fellow performers and choreographers — the opportunity to share their art is both challenging and meaningful.
"It's new every time you can bring the same structure or formula, but you don't know what it's going to taste like, look like, feel like," says Young. "The challenge of the newness — that's what keeps me going. That's what I get out of it. You're creating something and trying to see what it can become."