Community gardens, mobile markets, and fresh food pantries share a social conscience mission with farmers markets. Not just feel-good gardens and programs, they bring freshly grown produce to those less fortunate or in a food desert, where options for fresh food are scarce or unavailable. Here are a few you can find in our area.
First Presbyterian Church
First Presbyterian Church offers the Giving Back Garden, located on a once-vacant plot of land on the corner of Fisher and Greene. Families and individuals farm their own plots and then donate the produce to Hot Dish & Hope, Second Harvest Food Bank, and Greensboro Urban Ministry.
Starmount Presbyterian Church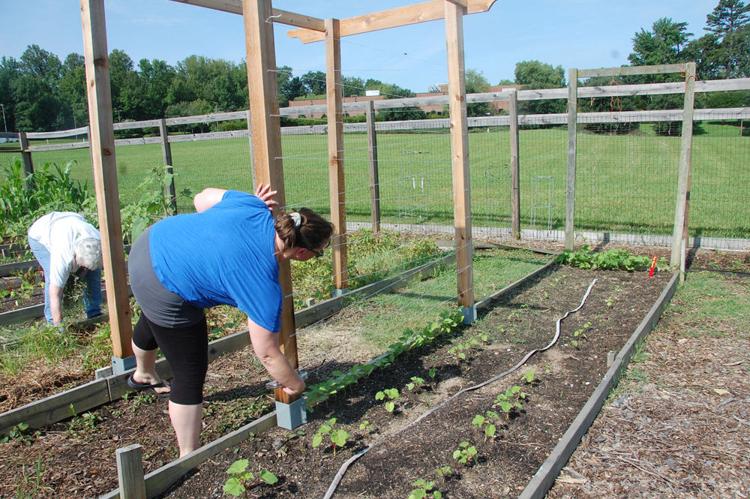 The Starmount Presbyterian Church community cooperative garden is one of many that donates produce to nonprofit Share the Harvest. Linda Anderson and other volunteers started the initiative in 2009 after a community read about social justice.
"We work every Saturday during season," says Anderson. "We received financial assistance from N.C. Cooperative Extension and used some seed money to start."
Other agencies, individuals, and institutions can donate or give assistance to the nonprofit. Food is distributed on Mondays and Thursdays through the end of September.
Westover Church
Immigrant and refugee families can garden in raised beds at non-denominational Westover Church, as part of their Good Neighbor Outreach ministry. Westover has eight families this summer, and in the remaining eight beds, volunteers will plant and harvest donations for Share the Harvest.
"It has been a great opportunity to also learn from our neighboring families," says Rebecca Pittard, director of local ministries. "They have shared produce from their own cultures, like cilantro and tomatillos."
Out of the Garden Project
Out of the Garden Project has an urban teaching farm at Prince of Peace Lutheran Church, where families, individuals, and groups can learn how to grow their own fruits and vegetables. They also operate a shared-use kitchen and a fresh mobile market, which provides produce, meat, bread, and shelf-stable products to qualifying families in Greensboro and High Point. Their Operation Backpack program gives students in need and their families enough food to last the weekend.
Backpack Beginnings
School kids have access to fresh and packaged food through Backpack Beginnings, which delivers backpacks to many elementary and head start programs in Greensboro and High Point. They also operate food pantries in various middle and high schools in both cities. Community gardens, The Produce Box, and other sources all contribute to the pantries.