Dozens of trays of plump, ripe blueberries sit stacked on metal racks waiting to be sorted and weighed before going to the press. Thousands of them roll into buckets and bounce off the sides, creating a melodic, rain-shower drumming. The press — large, tall, and sitting in the middle of its own room — is made of wooden slats fitted together to form a wide cylinder that looks like something from a sci-fi film.
What began as a "u-pick" field operation has turned into the main source of produce for the beverages at Botanist and Barrel, which specializes in small-batch raw, wild, and unequivocally unique ciders, sour ales, and dry wines.
Operating and harvesting out of Cedar Grove in Orange County since 2015, Botanist and Barrel self-distributes in North Carolina, South Carolina, and Georgia. The first organic cidery in the state, Botanist and Barrel is located on a 98-acre farm called Cedar Grove Blueberry Farm, which was recertified organic in June.
Brother and sister team Lyndon and Kether Smith — along with spouses Amie Fields and Deric McGuffey and some of their friends and neighbors — make the unrefined, unfiltered, unpasteurized magic.
"We're inspired by the seasons and what is available within a 200-mile radius," says Kether, who worked in the restaurant industry before opening the cidery.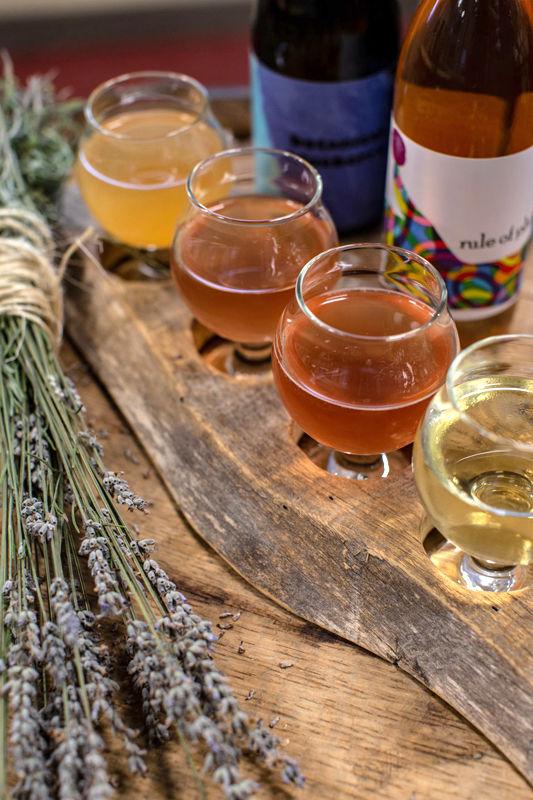 Most of the blueberries, blackberries, raspberries, peaches, and apples come from their own farm. But all of the fermented farmhouse-style ciders and wines are au naturel, meaning no additives are used in any part of the process.
The process, which takes anywhere from six to 18 months press to bottle, is one of the oldest in the world. Actively fermenting wine is bottled, capped, and allowed to complete fermentation in the bottle. If the brix or sugar content is too low, the only sugar added is vegan sugar, which doesn't use bone char to bleach it, unlike standard white sugar.
However, the core program of wines are completely pétillant naturel, or pét-nat, French for "naturally sparkling." The bubbles come from naturally occurring sugars.
"It's hard for us to achieve balance [with no added sugar], so we are tricking you to think it's sweet," says Lyndon, co-founder of Sour Grapes, a regional alcohol import and distribution company.
Before bottling, all of the wines, sours, and ciders are also barrel aged. The barrels, lined up next to the fermenters and kettles, come from local spirit producers and additional sources in the region. They originally contained sauternes, maple, whiskey, gin, and even honey and sea salt. The Apricot Gose, for instance, is aged in bourbon sea salt barrels.
Each small batch produces a few sixtel kegs and up to 20 cases of wine. And once they're gone, that's it.
The most popular ciders are strawberry and blueberry. Aged in gin barrels, the Botanical Blueberry has a soft, light carbonation that gives way to a tart start with a subtle herbaceous finish for this periwinkle brew. The Forbidden Root is also a favorite, made with blackberries, blueberries, baby turmeric, and baby ginger — all grown on the family farm.
Basq in the Glory, an apple cider, is a prime example that characterizes all of the meadery's offerings. It has "the right amount of funk and sour. It's got a deep soul," Lyndon says.
Always looking forward to the next, exciting thing, the Smiths are now producing their first canned product: Seriously Dry Farmhouse Cider. It's made with their favorite blend of apples — and features the Zabergau Reinette, a crisp, juicy, German apple.
But how does it all taste?
While North Carolina fruit wines have often been characterized as being very sweet and one-dimensional, this is not true at Botanist and Barrel. From the classic and subtle flavor profiles of the pét-nat wines to the punchy mashups of the limited-edition barrel-aged spirits, the flavor combinations are an integral part of the harmony in each bottle.