Melody Glick occasionally sees someone with a bag of bugs.
"Stink bugs," she says. "People want to know, 'How do I get rid of stink bugs?'"
People also ask her about ladybugs (don't get rid of them; they eat aphids) and show her pictures of weeds. Sometimes, they even bring sickly-looking plants for her to examine.
Glick is one of the volunteers at the Ask an Extension Master Gardener booth at the Robert G. Shaw Piedmont Triad Farmers Market in Colfax. Part of the N.C. Cooperative Extension's Guilford County Center, the Master Gardener volunteers answer questions of many different types — all related to plants and gardening.
"We get a lot of folks wondering what a certain plant is, or what this weed is," says Hanna Smith, horticulture extension agent for the Guilford County Center. "We get a lot of vegetable disease questions. If the master gardeners don't know the answer, they'll take the person's information and bring it back to the office to have someone contact them."
The center recruits volunteers through social media, flyers, brochures and word of mouth. About 25 to 30 people sign up each year, and go through 14 weeks of classes, during which they learn about topics such as organic gardening, pest management, and lawn care.
In addition to working the booth at the farmers market, they take part in various community and educational outreach programs for the extension. To retain their certification, they must volunteer 20 hours annually.
"It's a great way to help people with any sort of gardening issues they may have," Smith says. "They help the horticulture agent, who can't be in 50 places at once. They get trained to provide education."
Glick, a retired nurse who grew up in Pennsylvania and lived in Michigan, says she got involved with the program because she loves "playing in the dirt."
"Here, it's three-season growing," she says. "It's wonderful, and I've been able to learn a lot. I go to the parks, and I've been down to the soil-testing lab."
A rotating group of volunteers set up at the farmers market once or twice a month. About a half dozen were on hand one morning in June. On a table, they had newsletters and brochures with gardening tips and information on upcoming classes.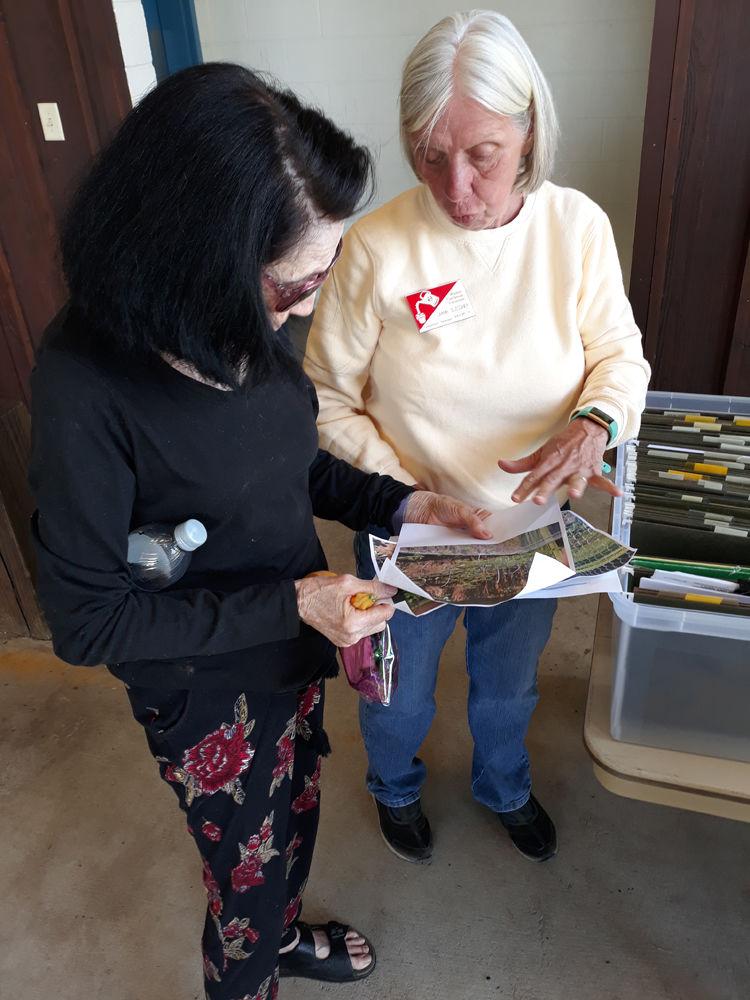 Among those who stopped by the booth was Jackie Myers, who brought pictures she had printed off of her tomato plants, which had blight on them.
"There's no way the tomatoes can come back from that; is that what you're telling me?" she asked. "Because I had one plant that actually almost died and came back."
The volunteers told her she would probably be better off pulling them out and not planting anymore tomatoes in that particular spot.
Eve Hoberek, who lives in Kernersville, stopped by to ask for advice about starting a community garden in her neighborhood.
"It makes for good neighbors, gives people a stake in the neighborhood," she says. "Right now, the [community garden] builder has asked the garden club to help with some of the planters and beds in the entryway."
In the spring, volunteers will field an onslaught of questions about vegetables. Many visitors also ask about how to get rid of crabgrass, and how to keep their lawns green during dry spells. Others inquire about trees turning brown. Insects are always a concern.
"Quite often, people will bring a picture of the plant, or the plant itself," volunteer Nona Pryor says. "We have books that we recommend. We'll recommend experts sometimes — pest people, certified tree people."
Volunteers also get plenty of questions about how to start a garden, even if they have little space on which to plant.
"A lot of people ask about container gardening," Pryor says. "We get a lot of people who are rookies."
Glick urges anyone planting for the first time to get a soil sample tested. (The Extension provides kits so samples can be sent to Raleigh.) She also helps them figure out what's appropriate for the spaces they have.
"Some people want to attract butterflies or bees, so we give them a list of pollinator plants," she says. "Others have a lot of wet areas in their yard, so we encourage them to do a rain garden. We're not going to design for them, but we'll give them a lot of suggestions."